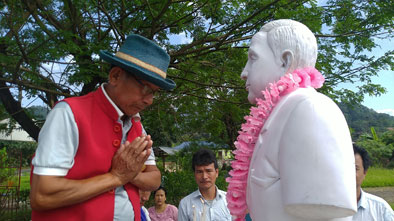 ITANAAGR, 1 Jun: The Silukian Welfare Kebang(SWK) on Wednesday paid rich tributes to Lummer Dai, the doyen of Arunachalee literature, on his 82nd birth anniversary at Silluk.
The members of SWK, Team Swacch Silluk Abhiyan(SSA), members of AYANG Women Self Help Group, PRI members, GB's and the village elders attended the program.
While narrating the short life history of Lummer Dai, Silluk GB Ashik Yirang said that he was one of the pioneers in spreading education in the state.
Paying his rich tributes to Lummer Dai, the spokesperson of SWK, Nakut Yirang said, "Since his childhood he was brilliant." He further said that Late Lummer Dai was a scholar, a writer and an administrator."
Swacch Silluk Abhiyan (SSA) chairman Kepang Nong Borang appealed to the congregation to follow the footsteps of Lt. Lummer Dai.
Silluk-2 GPC Ton Ratan said, "Dai built a bridge between Arunachalee and Assamese societies through his brilliant literary works which need to be nurtured."
Silluk-1 GPC Dite Lego also spoke on the occasion.