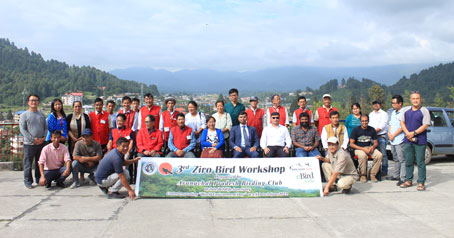 HAPOLI, 2 Jun: The Arunachal Pradesh Birding Club (APBC), in collaboration with the Hapoli forest division, Bird Count India and E Bird India, inaugurated the '3rd Ziro bird workshop and training programme' here in Lower Subansiri district on 1 June.
Ornithologists Dr Ashwin Vishwanathan and Chintan Sheh, both from Bird Count India, conducted a session on 'How to monitor and go beyond birds and how to use e-birds app and how to use Merlin app'. This was followed by 'shorthand field exercises' in the Kardo forest area, where the participants were given basic training on the use of the apps.
Hapoli Forest Division DFO Abhinav Kumar informed that, during 2017-18, only 7-8 species of migratory birds were sighted in the Ziro valley, "which rose to sighting and recording of more than 20 new different species of birds within a span of three years, which is a very positive outcome of such workshop and awareness among the common public."
The DFO informed that a guidebook on the birds of Ziro will be released on the occasion of Dree festival on 5 July.
APBC president Koj Mama also spoke.
Commemorating the World Environment Day, the workshop will be organised at the Tale Wildlife Sanctuary from 2-5 June.
The inaugural session was also attended by members of the Tanw Supun Dukun, the Apatani Women Association Ziro, the Apatani Youth Association, the Apatani Gaon Bura Buri Association, and faculty members and students of St Claret College, Ziro. (DIPRO)