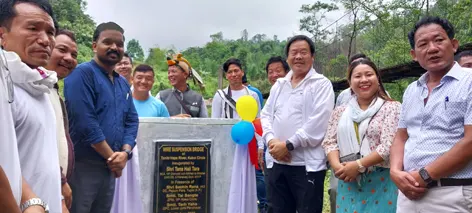 YUPIA, 4 Jun: Doimukh MLA Tana Hali Tara inaugurated a wire suspension bridge over the Tania Happa river and a new village named Nyor Happa in Kakoi circle of Papum Pare district on Saturday.
Addressing a public meeting in Nyor Happa, the MLA congratulated the residents of Tania and Nyor Happa over the new bridge and village, and said that "road development is a priority, as it plays a key role in bringing all kinds of developmental activities in an area."
He informed the public about "the fund provision placed under PMGSY for development of road connectivity for Nyor and Tanio Happa villages."
Papum Pare DC Sachin Rana, who was also present, spoke about the need to protect and preserve the flora and fauna. Responding to a memorandum submitted by the public of Tania Happa, the DC assured to look into the issues of lack of teachers' quarters, shifting of polling station, drinking water supply, appointment of GBs, etc.
Kakoi ZPM Tai Sangte and Lower Jumi GPC Tarh Yaha also spoke. (DIPRO)