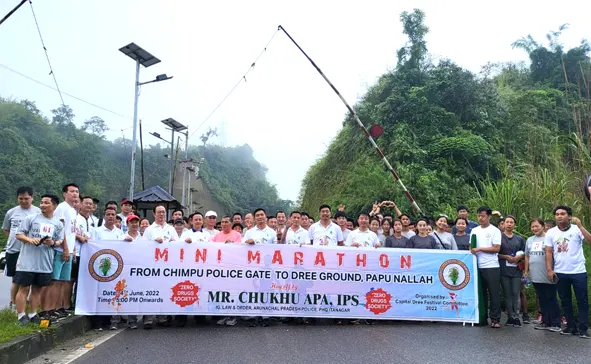 ITANAGAR, 4 Jun: Bijay Deka from Guwahati (Assam) and Jyoti Mane from Shi-Yomi district bagged the first positions in the men's and the women's category, respectively, in a mini-marathon organised by the Capital Complex Dree Festival Celebration Commitee-2022 here on Saturday.
The other top six spots in the men's category were secured by Harang Cheri (2nd),
Bipul Satanami (3rd), Khoshan Khamblai (4th), Tapo Darba (5th), and Tangu Ngomle (6th), while in the women's category the other top six spots were secured by Yabom Tali (2nd), Lily Thangchopi (3rd), Nedi Ngi (4th), Albina Doley (5th) and Yaro Maying (6th).
A total of 170 runners took part in the 15 kms long marathon, which started from the Chimpu police check gate and culminated at the Dree ground in Papu Nallah.
IG (Law & Order) Chukhu Apa distributed the prizes to the winners. Celebration committee chairman Nani Tath was also present.
Capital Complex SP Jimmy Chiram and IG P HQ Michi Paku also participated in the program.