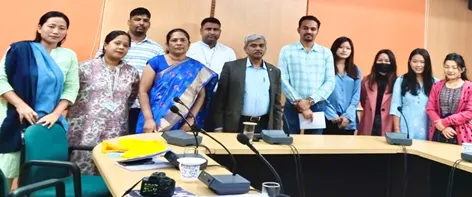 PAKYONG, 7 May: A group of eight, including scientists and technical personnel, from Kimin-based DBT-APSCS&T Centre of Excellence for Bioresources and Sustainable Development is in the ICAR-NRC for Orchids (NRCO) here in Sikkim for a 10-day advanced 'Hands-on training programme on micropropagation, molecular biotechnological aspects of orchids', which began on Monday.
The session began with a lecture by NRCO Director Dr Ram Lal about orchids, their importance and identification, cultivation techniques and the present gap in the research scenario regarding orchids in India, especially the northeastern states, which, he said, "need to be acknowledged."
Lal said that the NRCO is providing technical support and consultancy service to the DBT-APSCS&T in all other aspects of orchid conservation, cultivation and orchid-based entrepreneurship, "which will be very beneficial to the state and provide sustainable growth to the 412 small-scale farmers."
During the 10-day programme, the team will be covering various aspects of orchid conservation and cultivation and value addition of orchids with a view to providing entrepreneurship to the local farmers.
The programme will also provide hands-on training on plant tissue culture of orchids for conservation and commercial cultivation.
The training is an initiation towards the collaboration established between the DBT-APSCS&T CoE for BRSD and the ICAR-NRCO for working towards orchid conservation and increasing its economic awareness among the local people of the state.
The team also visited a conservatory for orchids, which is being tended by the ICAR-NRCO. The conservatory houses 3,130 accessions and 360 species of orchids, of which 1,026 accessions have been registered.