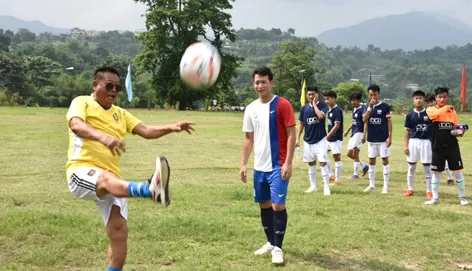 ITANAGAR, 8 Jun: The Capital Complex Dree Festival Celebration -2022 Football Tournament was inaugurated on Tuesday here at AAPBn Ground Chimpu as part of the Dree festivities. A total of 18 teams are participating in the tournament with 10 teams in the veteran category of above 35 years of age and 8 teams in the open category.
Legendary Apatani footballer Lod Tabyo attended the opening ceremony and kicked off the tournament. He was accompanied by other football legends namely Millo Tago, Gyati Tagia and Mobya Pugang. They participated in the opening match in the veteran category Paatw A vs Khokhuñ A.
The first match in the open category was played between Hello FC and Yapung Yaper FC. The Hello FC won by 1-0 goal scored by Bamin Tadu.
In the veteran category, Dani Sulu of Paatw A scored the solitary goal to guide his team to a victory over Khokhuñ A in an exciting game.
There would be 32 matches in the league round while the finals of the tournament would be played on 18 June next.
On the second day of the Capital Complex Dree Festival-2022 Football Tournament, four matches (two each in the open and veteran categories) were played.
In the first match of the day in the open category, played between Haaki Ajing FC and TY FC, Haaki Ajing trashed TY FC by a margin of 5-0 goals.
Landi Millo from Haaki Ajing FC was awarded the Hero of the Match. In the second match of the open category, Manchester United prevailed over Miichi United FC by a solitary goal. Pyagang Tatung of Manchester United was declared Hero of the match.
In the first match of the Veteran category played between Ball Tulla FC and Being Friends FC, Ball Tulla FC won by a margin of 2-1 goals. Tamo Tagia of Ball Tulla was declared as Hero of the match.
In the last match of the day which was played between Paatw B FC and Mikho-Bo FC, Paatw B won easily by a 4-0 goals margin. Tilling Habung of Paatw B was awarded Hero of the match.