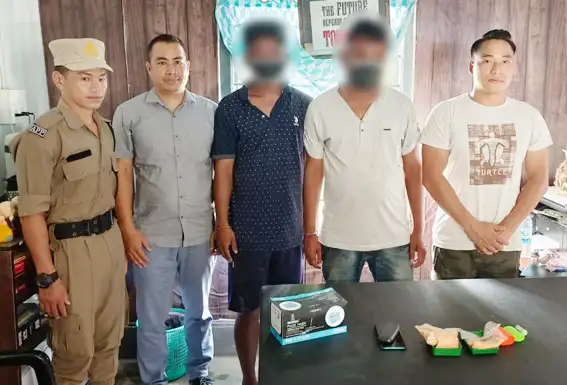 NAMSAI, 9 Jun: The anti-drug squad (ADS) of the Namsai police, led by DSP (P) Kengo Dirchi and including Inspectors T Yangi and T Padung and Executive Magistrate Mihin Anku, arrested two drug peddlers from the highway in Deobeel area on Wednesday.
The alleged peddlers, identified as Dombaru Moran (30), of Kapatoli village in Assam, and Ratul Sonowal (22), of Manchal village in Assam, were arrested after the scooter (AR-20-3534) they were riding was intercepted by the ADS on the highway.
The scooter was searched in the presence of the magistrate and independent witnesses, and two plastic soap cases, containing white and orange powdery substance, suspected to be contraband and weighing about 14 grams, were seized.
The duo has been arrested, and a case under relevant sections of the NDPS Act has been registered at the Namsai police station, SP DW Thongon informed in a release.