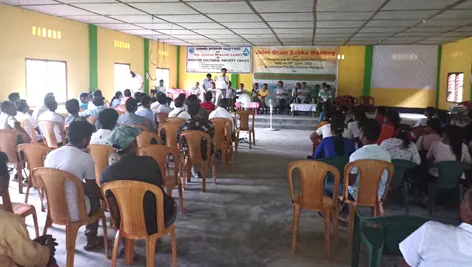 RANGLUA, 10 Jun: Discussions on ways to preserve and protect the catchment areas and water sources through community participation were held during a meeting of the members of the gram sabhas of Ranglua and Rusa at the common facility centre here in Longding district on Friday.
During the meeting, the representatives of the two gram sabhas resolved to protect the catchment areas of Rakhaw, Watak and Zennu streams, which are the main sources of water supply to Linglam Rusa, Tiru Rusa, Ranglua and Tanglam Rusa villages.
Earlier, Kanubari ADC Techu Aran outlined the importance of preserving the catchment areas and sustainable use of water resources. He appealed to the community members to provide support to the government agencies in the implementation of the Jal Jeevan Mission.
Lawnu ZPM Nyeman Wangsu in her address urged the people to "cooperate selflessly and contribute towards protection of the catchment areas."
She also requested the departments concerned to ensure that schemes are implemented efficiently and effectively.
Audiovisual presentations related to the Jal Jeevan Mission were made by the PHE department.
PHED&WS AE Gumge Ete, the WRD AE, Lawnu CO Yowa Anya, ISA members, the Wancho Council president, land donors and GPCs also attended the meeting. (DIPRO)