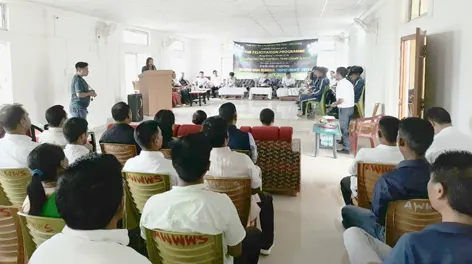 LONGDING, 11 Jun: The U-16 football team from Longding district, which won the runner-up trophy in the 5th Hangpan Dada Memorial Football Tournament, was felicitated in a function organised by the district administration here on Saturday.
Speaking on the occasion, DC Bani Lego lauded "the hard work and efforts made by the players" and urged them to "display similar zeal and enthusiasm in other fields also, especially in the field of education."
"The district administration will always be ready to bring out the best in the youths and will provide all possible help towards empowering the youths of the district," the DC said.
District Olympic Association president Tailai Toham and its secretary Wangfyak Wangsu lamented the lack of coaches, proper playground and sports equipment for the sportspersons.
They urged the state government and the district administration to look into the problems faced by the sportspersons.
District Sport Officer Ahua Wangsu also raised the same issues.
The programme was attended by the Longding DSP, heads of departments, administrative officers, public leaders, and parents/guardians of the players. (DIPRO)