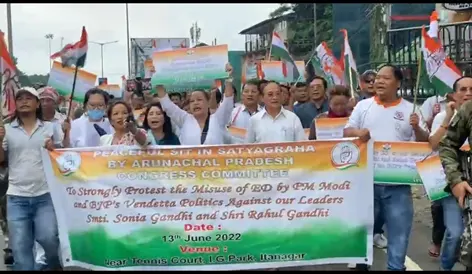 ITANAGAR, 13 Jun: Expressing support for Congress leader Rahul Gandhi, who was summoned by the enforcement directorate (ED) over the National Herald case on Monday morning in New Delhi, the Arunachal Pradesh Congress Committee (APCC), along with the National Youth Congress, took out a protest rally from the APCC office to the IG Park tennis court here.
Terming the issuing of the summons "vendetta politics," APCC president Nabam Tuki lambasted the BJP for "misusing the power of ED law."
The former chief minister informed that "the case has emerged from the issue of National Herald newspaper, which was run by the Congress party under the leadership of Jawaharlal Nehru since 1937, giving a voice to the freedom movement of the country."
He said that the newspaper "got down into losses with dues of Rs 90 crores and, in order to help the newspaper, the Congress party lent a loan of Rs 90 crores over a period of 10 years, between 2002 and 2011, in about 100 installments."
"Out of the Rs 90 crores, Rs 67 crores was used to pay the salaries of the voluntary retirement schemes of the employees, and the rest were used for the payment of government revenue such as electricity charges, house tax and others."
Tuki further informed that the Rs 90 crores loan given to the National Herald "was impossible to be repaid by the newspaper and its parent company, the Associated Journals Limited, for which the Rs 90 crores was converted into equity shares."
"This is a battle for truth. Truth has emerged victorious and this time also it will," he said.
More than 100 people participated in the rally.