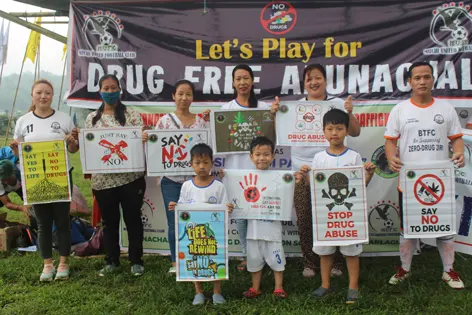 ITANAGAR, 13 Jun: Naharlagun-based Miichi United Football Club is observing a fortnight-long 'Nasha se azadi pakhwada', with the theme 'Let's play for drug-free Arunachal', as part of the International Day against Drug Abuse and Illicit Trafficking, from 12-26 June, in collaboration with the health services directorate and the Chimpu-based IRBn.
The soccer team's manager, Koj Tara, said that "the fight against drug menace is not only responsibilities of health and police department but it is collective responsibility of all the stakeholders, civil society and every individual of this nation."
APP Inspector Habung Tapa, who is also a veteran footballer, urged young players to "maintain discipline and healthy life by indulging in sports activities and by avoiding any kind of drug and substance abuse."
Capital Complex Dree Festival Committee general secretary Hage Tapu commended the football club for organising the campaign.
He asked the young footballers to help in creating awareness against the drug menace.
The football club also organised an awareness programme during the Capital Complex Dree Football Tournament.