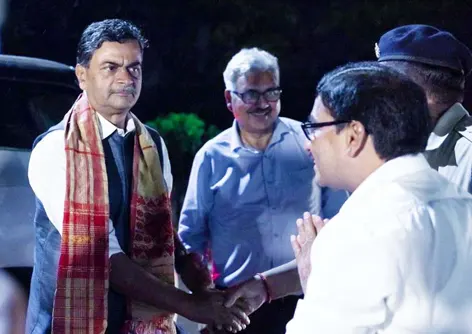 [ Prafulla Kaman ]
DHEMAJI, 14 Jun: Union Power Minister Raj Kumar Singh said that the construction of the 2,000 mw Subansiri Lower Hydroelectric Project (SLHEP) is almost complete and will be commissioned next year.
On Tuesday, Singh, accompanied by NHPC officials, visited the project sites in Gerukamukh and took stock of the progress of the construction activities for the mega project.
Later, talking to reporters here, the minister said that "excessive rainfall is hampering construction activities of the project."?
He, however, expressed optimism that the construction of the project in all respects, including the renovation of the damaged portions, will be completed by December this year.
Replying to a query regarding the disaster mitigation policy adopted by the authority for the people living downstream, the union minister said that "measures have been taken to assess environmental impacts at the downstream areas of Assam and to chalk out a scientific mitigation plan."
The minister later inspected various centrally-sponsored schemes, such as the PM Awas Yojana (Grameen), potable pipe water supply under the Jal Jeevan Mission, the PM Kisan, the PM Svanidhi, the PM Mudra Missions being implemented in the district.
During the first week of this month, the union minister had reviewed the implementation of various centrally-sponsored schemes in East Siang district.
Kamle DIPRO adds: Union Power Minister RK Singh on Tuesday inaugurated the Power House Unit Box 1 of the SLHEP, which is located in Kamle district, in the presence of MLAs Tarin Dakpe (Raga) and Kardo Nyigyor (Likabali), the DC, the CZP, HoDs and officers of the NHPC.
Addressing the public of Dollungmukh, the minister said that the central government is "ensuring electricity connectivity to the last household of the last village under the Saubhagya scheme."
He also emphasised on "tapping green energy, namely hydro, solar and wind energy," and stated that "Arunachal alone has the potential to produce 50,328 mw of hydropower."
Singh informed that, "in cases where required qualification exists, the tenders/work contracts and recruitment of officers and officials shall be made from the project-affected localities as this will ensure holistic participation of the people."
On being apprised by the Raga MLA about problems such as lack of direct road link to the district headquarters and lack of bank facilities and internet connectivity, the union minister assured to take up the matter with the ministry concerned.
He also interacted with the beneficiaries under the different flagship programme of the Centre.