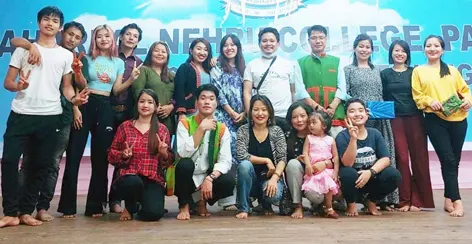 Correspondent
PASIGHAT, 14 Jun: The National School of Drama, in association with the Karpung Karduk Folk Music Academy of East Siang district, organised a 14-day theatre workshop at the JN College (JNC) auditorium here in East Siang district.
The objective of the workshop was to instil a sense of responsibility among the young artistes for the promotion of their traditions and culture.
Theatre experts Rilli Ngomle, Goge Bam and Delong Padung taught the young participating artistes "various artistic acting in theatre and cinema, besides practices of folktales, street play and mimes."
Attending the concluding programme on Monday, JNC Principal Dr Tashi Taloh asked the young artistes to create an atmosphere of theatre in the state and work for the promotion of their ethnic culture through theatre and feature films.
Cultural programmes showcasing the living traditions and cultural practices of the Arunachali tribes were some of the special attractions of the concluding day's function.
Thirty selected youths from different districts of the Siang belt, comprising Upper Siang, East Siang, West Siang, Siang, and Lower Dibang Valley, attended the workshop.