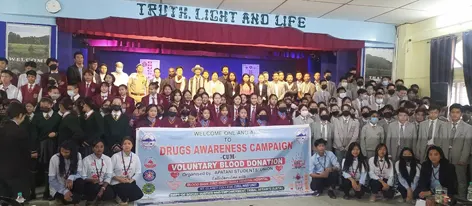 ZIRO, 14 Jun: The Apatani Students' Union, in collaboration with the blood bank here in Lower Subansiri district, the NSS unit of St Claret College, Ziro and the social justice, empowerment & tribal affairs department, conducted an awareness programme on the ill effects of drug abuse and the benefits of voluntary blood donation at the SCCZ on Tuesday to mark the World Blood Donor Day.?
Tax & Excise and Narcotics Superintendent Takhe Rinyo spoke about "the legal aspects and consequence of drug abuse and addiction," while DSP Tashi Darang highlighted "the ill effects of drug abuse in the society and the role of the police in eradicating the drugs menace."
Blood Bank Officer Dr Hage Yubbey highlighted the benefits of donating blood.
Tanw Supun Tukun president SK Shalla and SP Sachin Kumar Singhal also attended the programme, which was supported by the All Lower Subansiri District Students' Union and the Environment Protection Committee, Ziro.