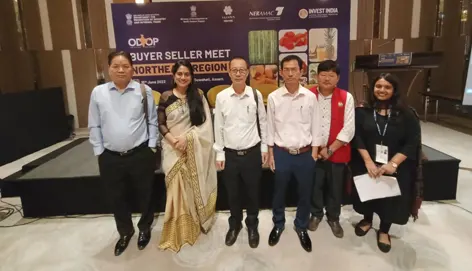 ITANAGAR, 15 Jun: A high-level team from Arunachal Pradesh led by APIDFCL chairman Wanglong Rajkumar and trade and commerce secretary Hage Tari attended a buyer-seller meet in Guwahati on Wednesday.
Around 80 sellers/producers from the North East showcased their agricultural, horticultural, handlooms and handicraft produce during the event.
From Arunachal Pradesh, M/s Green Gold Integrated Farm, Papum Pare showcased its produce including kiwi, large cardamom and Thai lemon. Large cardamom was the main attraction of the meet as many buyers showed keen interest in it.
M/s Kameng Organic Farmers Producer Company Ltd. from Pakke Kessang also participated in the meet and showcased its organic products, like turmeric, ginger, dry turmeric.
Twenty buyers from across the country also participated in it and interacted with the sellers.
APIDFCL vice chairman Boken Kino and trade & commerce director Sonyung Modi also attended the meet.
The event was organized by Invest India in collaboration with the department for promotion of industry and internal trade, ministry of DoNER, North East Handlooms & Handicraft Development Corporation and North Eastern Regional Agricultural Marketing Corporation Limited.
DoNER secretary Lok Ranjan addressed the meet virtually.
NEHHDC managing director brig. RK Singh, National Investment Promotion & Facilitation Agency (Invest India) North East head Dr. Geetima Krishna, NEC Advisor (BIT) R Lalrodingi and NERAMAC managing director Manoj Kumar Das spoke on potentials and challenges of North East region. The participants also discussed about the difficulties faced by farmers in obtaining organic certifications for their produces.