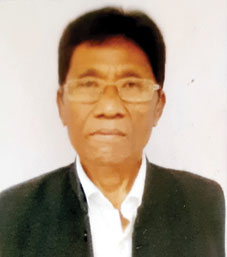 ITANAGAR, 17 Jun: Veteran Congress leader and former minister Changkom Hondik passed away at a private hospital in Assam's Dibrugarh on Friday after a prolonged illness.
He leaves behind his wife, a son and three daughters.
Hondik had been elected as the Congress party's member of legislative assembly in 1996 from the Namsang assembly constituency in Tirap district, and became a minister.
He also served the party in various capacities since 1986. He was the general secretary of the Arunachal Pradesh Congress Committee (APCC) for two terms and was holding the post of the APCC vice president at the time of his demise.
He was also associated with many NGOs.
APCC president Nabam Tuki deeply mourned the passing away of Hondik and offered heartfelt condolence to the bereaved family.
"Hondik was a very good friend of mine and was closely associated with me for the last four decades. He was a very simple, kind-hearted and hardworking person," Tuki said in a condolence message.
"His selfless contribution to the Indian National Congress in the state and the services rendered for the welfare of the people and all-round development of his home constituency will always be remembered," Tuki said.
Stating that Hondik's death is a great loss for the Congress party, particularly the people of Tirap district, the APCC president prayed for eternal peace of the departed soul.
Governor BD Mishra also offered sincere condolence to the bereaved family and said that late Hondik "made commendable administrative and social contributions and promoted the state's substantial development in his long political career."
The governor also prayed for eternal peace of the departed soul.
Legislative Assembly Speaker Pasang D Sona also deeply mourned Hondik's demise. He expressed condolence to the bereaved family and prayed for eternal peace of the departed soul.
Late Hondik had been elected as MLA from the Namsang assembly constituency in 1996, and was later inducted as the industries minister in the Gegong Apang-led government. (With inputs from Raj Bhavan and Speaker's PR Cell)