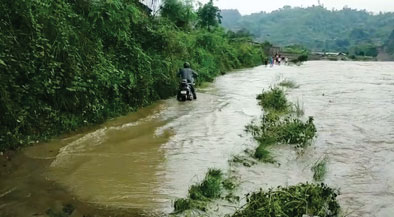 [ Chukhu Indu ]
DOIMUKH, 17 Jun: A             portion of the road in               Kolma village here was  submerged by the Dikrong river in spate on Friday,  making the area a risky one for the residents.
Local resident TN Likha informed that the river water flooded a major portion of the road between 6 am and 7 am on Friday. Although the water later receded, it has created a sense of panic among the residents. Likha also informed that such flooding occurs every year.
Another resident, Nangbia Pacha, said that the river was earlier five metres away from the road but has now inundated the road. "The constructing agency should have constructed the road a little higher from the ground level in order to avoid such nuisance," he said.
Lower Kolma is home to 400 people. Its residents have sought a proper retaining wall for protection against flooding.
On Friday morning, two-wheelers were somehow able to cross the flooded road, but a few four-wheelers had to take a detour in view of the river's current.
The road was constructed by the RWD under the PMGSY. Two letters have so far been submitted by the department to the contractor regarding maintenance of the road.
Meanwhile, the contractor of the road said that the maintenance work will begin from this month's end.
The contractor also informed that "the designated road work has been completed and now only the maintenance of the road is required."
It is worth mentioning that a team of panchayat leaders, along with the executive members of the Amba Village Welfare Association had on 10 February this year submitted a letter to Doimukh MLA Tana Hali, stating that the road's width is too narrow, and that the work was poorly executed.