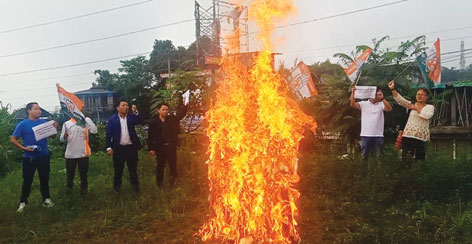 'Only those with RSS background will be retained in forces'
ITANAGAR, 18 Jun: Members of the Arunachal Pradesh Youth Congress (APYC), led by its president Tarh Johny, staged a demonstration here on Saturday against the Centre's Agnipath military recruitment scheme.
The APYC president in a press release stated that Agnipath "is a deceit to the country and unemployed youth." He accused the BJP of "taking youth power in the wrong direction," and said that the BJP "is putting national and state security at risk, misguiding youth by engaging them on a four-year contract basis in the Indian armed forces without any rank and pension."
"The main agenda behind the BJP government's launching Agnipath is to divert the nation from the BJP's false promises of two crore employment every year and Rs 15 lakhs to every account holder from black money," the APYC said.
"The government is saying that, after four years, the youth
will have a chance to go to another job, but the facts are telling something else. At present, more than 55,000 highly skilled jawans retire from the three services. After retirement, only 1 or 2 percent are being reinstated in another job. In these circumstances, what is the guarantee that the 'agniveers' (who will be retired after four years) will be recruited for another job?" it said.
The APYC also pointed out that it takes seven to eight years for a soldier to be ready in the army. "In such a situation, if the 'agniveers' will be given only six months of training, how will they become competent soldiers?" it said.
"There is no provision of pension, etc, in this scheme. Overall, this plan has several flaws. This is the reason why students across the country are angry against Agnipath," the APYC said.
It claimed that Agnipath "is the BJP government's plan to penetrate into the Indian defence and paramilitary forces and get the entire system into their hands."
Stating that the RSS is evidently involved in the launching of the scheme, the APYC said that "those with RSS background in the Agnipath scheme will be retained and ranked to officers and others will be made to retire. Thus, the country will be under threat in democratic terms and those retired at young age of 25-26 years after military training will be a threat for national security."
The APYC members also burnt effigies of Prime Minister Narendra Modi, Defence Minister Rajnath Singh and Home Minister Amit Shah.