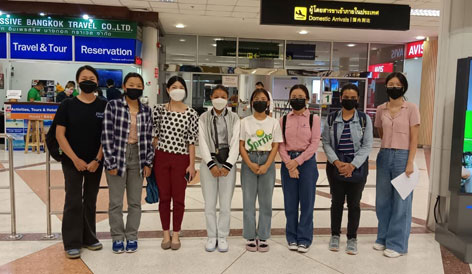 PASIGHAT, 18 Jun: Six BSc horticulture students of the College of Horticulture & Forestry (CHF) here in East Siang district are undergoing a month-long training programme under the IDP-NAHEP project in Thailand.
The students – Unti Miiri Ezing, Anwesa Bhusan, Dabianglang Dohtdong, Rakil Lalruatpuii, Lalhmangaihzuali Chawngthu and Neeruj Naorem – are undergoing training in "enhancing entrepreneurial competence in students to address the emerging challenges in agricultural and allied sectors," under the guidance of Suksathan researcher Dr Ratchuporn (Spanuchat).
"This is a great opportunity for the students to get exposure to a foreign country and
learn indigenous herbal tea making," associate nodal officer Dr P Raja said.
He informed that the students will be given hands-on training in tea cultivation and herbal tea processing.
"This is the first time our BSc horticulture students have gone abroad to expose the indigenous herbal tea making. Further, it will give lot of opportunities and scope for entrepreneurship development in Northeast India," CHF Dean Dr BN Hazarika said.