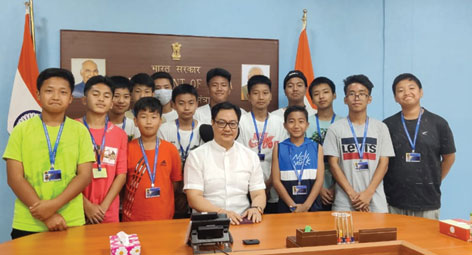 ITANAGAR, 18 Jun: Two students of the Donyi Polo Vidya Bhavan (DPVB) here – Kipa Aain (Class 8) and Nangram Maji (Class 9) – have been selected for the Indian Public School Conference (IPSC) football training in the future.
The selection was made during the IPSC Sports Events, including football, held from 23 May to 8 June at the Motilal Nehru School of Sports in Sonipat, Haryana. The events saw the participation of students from IPSC schools across the country.
DPVB students, both boys and girls, participated in the football and volleyball tournaments.
Union Law & Justice Minister Kiren Rijiju interacted
with the DPVB football team and encouraged the students to focus on their studies and get good grades, besides motivating them to "keep everything balanced in life."