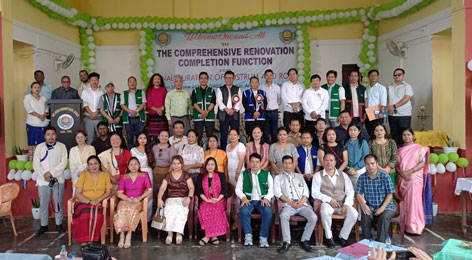 ITANAGAR, 20 Jun: Education Minister Taba Tedir on Monday appealed to all the former students of schools, colleges and universities to pay back to the society by making some kind of contribution to their alma maters.
Tedir was addressing students, teachers, and officials of the education department at the government higher secondary school (GHSS) here after inaugurating the school's rostrum, renovated building, and high-density water purifier system.
Tedir was accompanied by Itanagar Capital Region (ICR) DC Talo Potom, School Education Director Marken Kadu, ICR DDSE ST Zara, and others.
Tedir commended the DC for making tireless efforts to improve the infrastructure of the GHSS. He appealed to the students to respect their teachers, imbibe discipline, and stay away from drugs. He also said that "the schools' alumni should constitute committees in every institution."
"They can play a vital role in the infrastructural and academic development of their former institutes," said Tedir.
The minister gave assurance that he would take up the matter of construction of a borewell and a boundary around the school playground "in the coming RE, or the next budget estimate of the department."
Potom in his address said that he has tried his best with available manpower and resources, with support from others, to renovate the school's infrastructure, starting from February this year.
The DC also made a presentation on the status of all the schools in the ICR.
The students and teachers of the school expressed gratitude to Rajeev Kamal, advisor to the migration services of Amazon, New York City, USA, for donating three "new model high-density 80-litre ROs to his alma mater."
Kadu, IMC Corporator Gyamar Taj, GHSS Principal Tumngam Loyi Nyodu, and Vice Principal Geli Kamki also spoke.