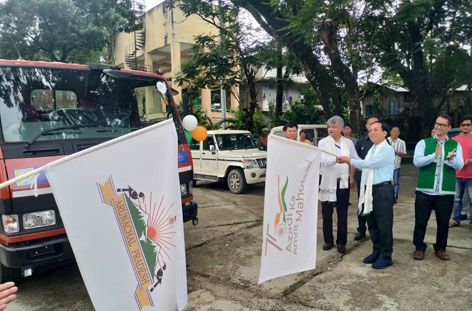 ITANAGAR, 25 Jun: Urban Development Minister Kamlung Mossang on Saturday flagged off 17 sanitation vehicles for the newly notified 17 urban centres.
The newly notified urban centres/DUDA towns are Yachuli, Sangram, Chayang Tajo, Kaying, Bordumsa, Kanubari, Hayuliang, Tato, Lemmi, Rupa, Kalaktang, Ruksin, Mechukha, Kharsang, Namsai, Miao and Raga.
Speaking after the flagging-off ceremony in the premises of the DK Conventional Hall here, Mossang said that order has also been placed for procuring a truck mounted with a sweeping machine to clean the main roads under the Itanagar Municipal Corporation (IMC) from the allocated fund.
"During the current financial year, Rs 2,200 lakhs have been allocated to the department for solid waste management in 45 notified towns, while the annual allocation for sanitation activity under IMC and PMC has been hiked to Rs 800 lakhs," the minister said.
"Under RE 2021-22, an amount of Rs 500 lakhs was released under the department of town planning for procurement of sanitation vehicles. The department procured 17 dumper trucks (9121 model of TATA make) for the DUDA towns," he said.
Arunachal has 47 notified urban centres, including the IMC and the Pasighat Municipal Council (PMC), and 89,571 households, accounting for 26.34 percent of the state's population, live in these urban centres, he said.
"Of the total 47 notified towns, the Itanagar Capital Region falls under Class-1 town, five under Class-3, and the rest under Class-4 category of towns, as per the census guidelines. There is no Class 2 town in the state," Mossang said.
He further informed that Rs 1,500 lakhs was released to the department for procurement of sanitation vehicles and hiring additional manpower for the IMC and the PMC during the 2021-22 financial year. Thirty vehicles, including dumpers, tractors, JCB loaders and refuse compactors, were procured from the fund released for the IMC and the PMC, the minister said.
The flagging-off ceremony was attended by MLA Ninong Ering, UD Secretary Ajay Kumar Bisht, Food & Civil Supplies Secretary Opak Gao, Mayor Tame Phassang, UD & Housing Chief Engineer Taring Darung and Town Planning Director Likha Suraj. (DIPR)