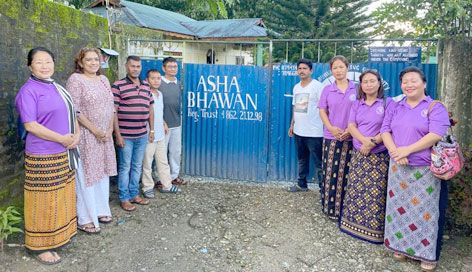 ITANAGAR, 26 Jun: A team of the Arunachal Pradesh Women's Welfare Society (APWWS) visited Asha Bhavan in Banderdewa on Sunday and interacted with those seeking help to recover from alcohol and drug addiction.
The bhavan currently has 13 people from various corners of the state, in the age group of 18-60 years.
APWWS secretary-general Kani Nada Maling advised the recovering persons to stay motivated and finish the course of the rehabilitation. "The APWWS is
committed for a drug-free Arunachal and will continue its movement against drug abuse," she said.
Former APWWS president Dipti Bengia Tadar congratulated the inmates "for initiating the first step to recovery."
Nina of Asha Bhavan informed that, given the high rate of addiction in the state, Asha Bhavan plans to open other branches in the state.
The APWWS team, which also included law coordinator Oyem Binggep and Itanagar branch general secretary Taku Yassap Tadar, donated rice and other edible items to the bhavan.