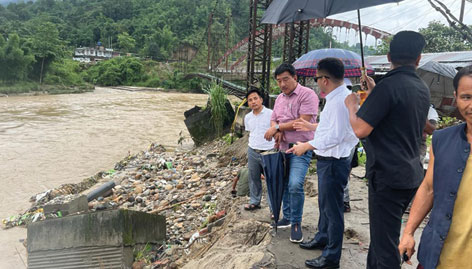 NAHARLAGUN, 28 Jun: The 300 mm DI pipe, which is the main line supplying water to the township area here, has been damaged at the bridge crossing near the helipad.
Informing this, Naharlagun PHE Subdivision Assistant Engineer (AE) Tamchi Shyam said that "normal water supply to Naharlagun township and Nirjuli will be affected till the restoration."
Also, the 150 mm diameter main pipe of the EFC line has been damaged and it will hamper water supply to the TRIHMS.
Shyam said that restoration of the water supply line will commence once the rainfall recedes. "It might take a week for normal water supply to resume in the whole Naharlagun township. Water tankers will be engaged till restoration," he said.
The AE added that "there are possibilities of more damages to water pipelines," and that the department is still awaiting reports in this regard.
Chief Engineer Toko Jyoti, SE Tayum Tok and EE Tadar Mangku visited the damage sites on Tuesday.
Meanwhile, water supply to various sectors in Itanagar has been interrupted, owing to landslides that occurred at various locations in the Itanagar region.
A release from the Itanagar PHE&WS subdivision assistant engineer on Tuesday informed that "pipelines have been washed away at several locations from sources in Lappu, Nosso and Dariya Nallah, resulting in water supply interruption to sectors like Senki View, the botanical area, F&G Sector, H Sector, Chandra Nagar, Ann Colony, Senki Park, Division IV, Postal Colony, Donyi Polo, Jami Jate and Modi Rijo."
"The PHED is trying to provide water to these sectors from the Poma line on alternate days. Besides, the water tanker will run to reinforce the water supply. The department ensures that it will restore all the lines at the earliest. The inconvenience caused is highly regretted," the release added.