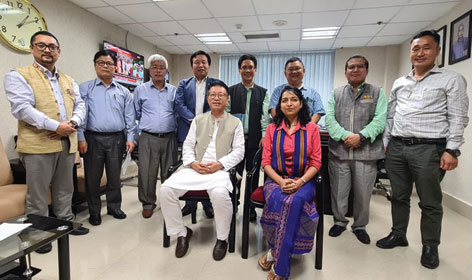 ITANAGAR, 28 Jun: A team of the Nyishi Elite Society (NES) on Tuesday apprised Education Minister Taba Tedir, Education Commissioner Padmini Singla, the school education director, the elementary education director, and EE (Engineering Wing) Gyamar Karo of the nagging problems of the schools adopted by the NES in seven districts of Arunachal Pradesh.
Responding to the representation submitted by the NES, the minister assured to "convert the ISSE in Pabua
in Pakke-Kessang to a regular secondary school" and to upgrade the secondary school in Pakke-Kessang to the higher secondary level within this academic year.
He requested the NES team to ensure speedy execution of the ongoing infrastructure projects undertaken in the NES-adopted schools, and to ensure completion of the projects by 31 October.
The NES team comprised Dr Tachi Taku (VP, west), Tarh Tabin (VP, east), Heri Maring (GS), Dr NT Rikam (AGS), Nabam Takar (information & publicity secretary), and Techi Tajo (coordination secretary).