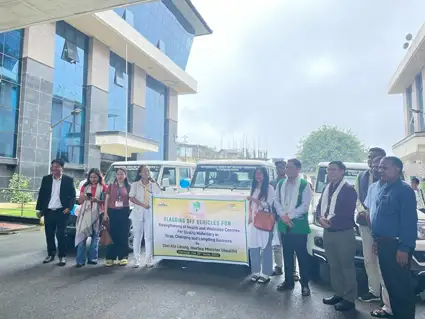 ITANAGAR, 30 Jun: Health Minister Alo Libang on Thursday flagged off three vehicles under a project titled 'Strengthening health & wellness centres for provision of quality midwifery in Tirap, Changlang and Longding (TCL) districts', as part of a joint venture of the state government, the John Hopkins Programme for International Education in Gynaecology and Obstetrics, and the Karuna Trust.
"Under this project, 17 selected health & wellness centres associated with PHCs will be upgraded to qualitative birthing centres, so as to increase the institutional deliveries and to reduce the risks NSBA home deliveries in these districts," the Karuna Trust informed in a release.
The three vehicles were arranged by the Karuna Trust "for logistics exclusively for implementation of the project," it said.
The Karuna Trust started its services in Arunachal Pradesh in 2006 under the PPP mode with the state government for revival and management of defunct PHCs, especially in the distant and remote rural locations, and is currently managing 13 PHCs in 10 districts. "The Vivekananda Hospital in Tezu (Lohit) is another independent healthcare project of the Karuna Trust in Arunachal," it said.