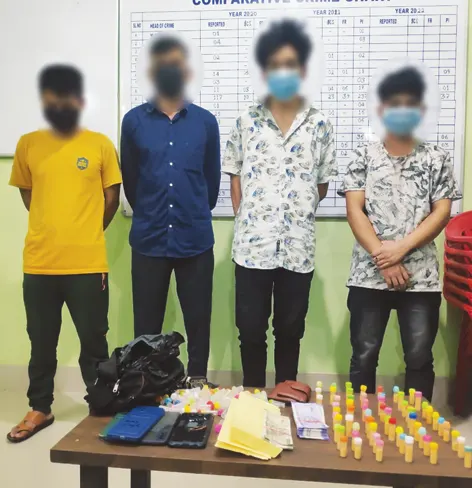 ITANAGAR, 2 Jul: The Itanagar police arrested four drug peddlers, including two policemen, and seized over 91.69 grams of psychotropic drug from their possession on 30 June.
On the day in question, based on reliable input about a person from Poma selling drugs, a police team caught two persons on the same day from near the RK Mission Hospital here, and registered a case against them under Section 21 (b) of the NDPS Act, and the case was endorsed to Inspector T Tasso.
During interrogation, the arrestees, identified as Teli Topu Camdir and Tage Lai, revealed the names of two other men who were engaged in peddling drugs. The police team verified the information and nabbed the other two, identified as APP Head Constable Satya Pal Singh and IRBn Constable Tamchi Joseph, both of whom were deployed in the capital police.
"Sixty-four vials, weighing 91.69 grams, were seized from Teli Topu Camdir, one vial weighing 1.44 gram was found from Tage Lai, and a Mahindra Bolero vehicle and Rs 32,000 in cash were seized from Tamchi Joseph and Satya Pal Singh.
"Itanagar SDPO K Sikom, Itanagar PS OC Inspector P Simi, Inspector T Tasso and team have done excellent work in identifying and nabbing these men involved in the drug trade," the capital police said in a statement on Saturday.
Efforts are being made to identify other suppliers, the police said.