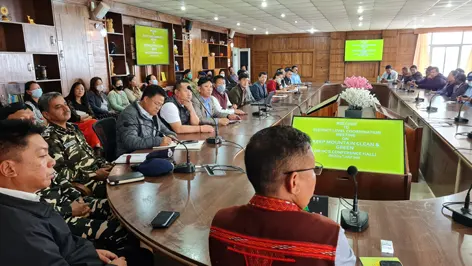 TAWANG, 4 Jul: A meeting regarding the ban on single-use plastic (SUP), disposal of empty glass bottles, and traffic management was convened by Tawang DC Kesang Ngurup Damo and ZPC Leki Gombu here on Monday.
During the meeting, which was attended by representatives of the army, the paramilitary forces and the BRO, besides administrative officers, HoDs, panchayat members, GBs, and members of market welfare associations, the DC appealed to the residents of Tawang to "properly segregate plastic materials in a bag, which will be collected by the UD department on a monthly basis."
On the matter of getting rid of empty glass bottles from the district, Damo informed that the Tawang brigade of the Indian Army has accepted the district administration's request to arrange transportation of such bottles to scrap dealers in Balipara, Assam.
"Similar request to other army brigades stationed in Tawang has also been accepted by the authority concerned," he said.
The DC commended the Women Welfare Association (WWA) of Tawang for carrying out awareness campaigns on drug abuse and collection and segregation of plastic waste. Plastic waste is sent to Jamtse Gatsal School in Lungla for recycling and reuse.
The DC also informed that, as part of the Azadi Ka Amrit Mahotsav, "every house and institution in Tawang district will hoist the national flag from 9 August till 15 August."
The participants also discussed matters such as taxi fare, vegetable rates, stray animals, parking problems, and traffic management in Tawang township.
The ZPC also thanked the WWA, led by Tsering Lhamu, for its voluntary services. He expressed appreciation for the villagers and departments for initiating destruction of wild cannabis.
On the parking problem, he said that "one side parking is to be strictly implemented in the district for smooth movement of traffic, and taxi fare needs to be reviewed immediately."
ADC (HQ) Lobsang Tsering informed that the government of India has strictly banned SUP from 1 July onwards. (DIPRO)