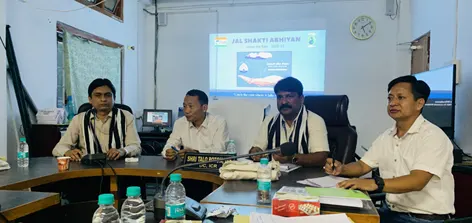 ITANAGAR, 4 Jul: A central team, comprising Jal Shakti Abhiyan: Catch the Rain-2022 (JSA-2022) central nodal officer Dr Mahesh B Dale and its technical officer Dr SS Vittala, in a meeting here on Monday took stock of the progress of the JSA-2022 and discussed ways to ensure its effective implementation in the ICR district.
Dr Vittala said that there are many ways to conserve water "and some commonly used methodology could be rooftop harvesting, which is very successful in the southern states of the country."
Dr Dale stressed on the need to carry out "enumeration of water bodies and their geotagging/GIS mapping." He asked the department concerned to "update the activities on the JSA: CTR portal regularly." He also stressed on conducting awareness programmes, especially at the panchayat level, on water conservation.
ICR DC Talo Potom asked all the departments concerned to "coordinate with one another for an effective and comprehensive water conservation plan."
EAC Takam Nicholas presented a brief on the importance of water conservation.
WRD EE Techi Topu Tara spoke about the "focused intervention under JSA-2022, viz, rainwater harvesting and water conservation, enumerating, geotagging and making inventory of all water bodies, preparation of scientific plans for water conservation, setting up a Jal Shakti Kendra, intensive afforestation and awareness generation."
He informed that the Jal Shakti Kendra is already operational in the office of the Itanagar WRD executive engineer.
The meeting was attended by the heads of various departments. (DIPRO)