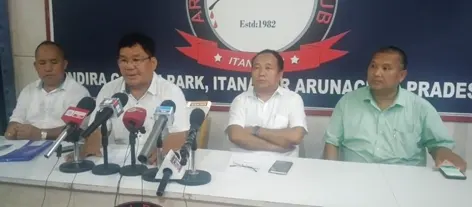 Staff Reporter
ITANAGAR, 4 Jul: Christian leaders from across the state will hold a 'mega consultative meeting' here on 16 July to discuss the way forward vis-à-vis the Tawang church issue and the three-member committee's report.
Addressing reporters at the Arunachal Press Club here on Monday, Arunachal Christian Forum (ACF) vice president James Techi Tara said that the ACF has rejected the committee's report, stating that the state's land law should be equal for everyone.
Commenting on Chief Minister Pema Khandu's response that the Tawang DC would take the final call in the matter of allotting land for the church, Tara said that "the DC has already done his work by submitting to the land allotment board for the approval of the report and now it is on the disposal of the government."
The ACF has also sought "the full-fledged report from the government, with proper signature on it," and urged the Tawang DC not to accept the recommendation.
Responding to the CM's purported remark that "desecration lies upon the people of Tawang," Tara said that "the capital region is a Nyishi inhabited area. However, it has allowed people of all religions to construct their respective places of worship."
The ACF, however, expressed hope that an amicable solution to the issue would be reached.
Earlier, on 18 June, the ACF had staged protest marches in all 21 districts of the state over the Tawang church issue.