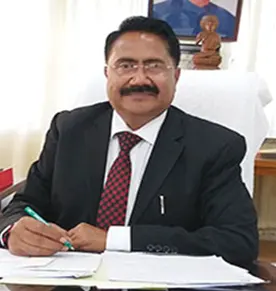 [ Prof Saket Kushwaha ]
It is a well-known fact that, after independence, the nation has already witnessed national policies like NEP-1968, NPE-1986 and its revised version POA-1992. But, keeping in view the neo-normative standpoints, demands of the 21st century society and new milieu of the millennium, our education must look forward for incorporation of the changes taking place and addressing the issues in the curriculum to the intended beneficiaries to bring a viable economic and social order in the country for realising the constitutional goals and philosophy of the nation. The nation has got another National Education Policy (NEP-2020) after a gap of 34 years, after prolonged academic debates, discourse and discussion and, ultimately, we are going to address its features in letter and spirit. India, under the dynamic leadership of Prime Minister Narendra Modi, in the past eight years has gained a special place for itself at the international arena. It is reflected in reformative steps taken by the government of India in every sphere, including economy, research, defence, health, agriculture and education in toto. In the last eight years of Modi's government, there are many reforms undergone in education and social sectors such as institutional growth of higher educational institutions, Pradhamantri Kaushal Vikas Yojana, Pradhanmantri Kisan Pension Yojana, Jan Dhan Yojana, Beti Bachao Beti Padhao, Atal Pension Yojana, Ujjwala Yojana, AMRUT Yojana, Digital India Mission, Stand-up India, Namami Gange Yojana, community interaction through Man Ki Baat, and Startup India for innovation and entrepreneurship in India, and many others.
Let me say why and what is the metaphysical ground behind the NEP-2020 and what are its pros and cons so far as societal relevance and quality magnitudes of higher education are concerned.
 The long cherished and the most awaited dream of the National Education Policy (NEP-2020) has become reality by the government of India for further course of action. After declaration of the policy document, over the last two years we have been observing, many national webinars, seminars and academic debates are going on by the policy-takers and stakeholders on the practical understanding and implementation of the policy. The present three-day Akhil Bharatiya Shiksha Samagam (7-9 July), organised for the key stakeholders and the academic, administrative and institutional leaders of the higher education institutions at Varanasi with the joint effort of MoE, government of India, UGC, and Banaras Hindu University, Varanasi, shall certainly pave the way for identifying the best implementation strategies, approaches and a concrete roadmap for effective implementation of NEP-2020 in the higher education institutions of India. Right now, for effective implementation of the policy, several task force committees and working groups are assigned to prepare the position papers and curriculum by different apex bodies at different levels of education at a war footing race.
Before the challenges in implementation, when we analyse the present NEP-2020 and its essentialities, basically, NEP-2020 aims to cater multifarious growing developmental imperatives of the nation on one hand and creating a just and equitable society on the other. The policy not only addresses radical reforms to bring quality and integrity into the education system right from early childhood care education (ECCE) to higher education (HE), but also brings a breakthrough in all aspects of education structure, comprising its regulation and governance to create a new education system for the nation in tune with requirements and aspiration goals of 21st century society.
In the context of higher education, NEP-2020 has brought tremendous changes in governance and institutional reforms aiming at establishment of multi-disciplinary colleges, universities and clusters of higher education institutions by linking with forthcoming industrial revolution for skilled job creation and augmenting employment avenues. All the way, the policy also focuses for National Research Foundation (NRF) to fund outstanding researches and to actively seed research in universities and colleges. According to NEP-2020, the admission system for all the universities and the undergraduate HEIs will be preferably through National Testing Agency (NTA) in order to reduce the burden of several overlapping examinations conducted by HEIs separately. The process is in true sprit now. The NTA this year has started initiative to conduct Central Universities Entrance Test (CUET) for the undergraduate programmes affiliated under ventral universities, and subsequently, the state universities will join as the state's decision in the coming years to come. The policy aims that the Indian higher education system will consolidate into a smaller number of institutions across the three types of HEIs and HEIs clusters for increasing the gross enrolment ratio (GER) with a target to increase up to 50 percent by 2035 and 6 percent GDP which will also help meet resource efficiency, multidisciplinary capacity, multiple entry and exit, maintaining academic bank of credits and quality higher education in terms of teaching, research and service. Subsequently, NEP-2020 also stresses upon establishing a national educational technology forum for proper use of technology in the domains of teaching, learning, assessment, administration and management systems and also focuses on maintaining virtual labs at various institutional and university level.
Apart from the major social schemes for the social transformation and economic development of the nation at par with pace of development at international level, the government has also brought a tremendous breakthrough in educational sphere for enhancing quality, equity, access and excellence in an inclusive manner.
Spectacular growth of HEIs and GER
India has quite a large system of higher education in as much as we have today 1,046 universities, including deemed to be universities and private universities as on 24 June, 2022, but under Prime Minister Modi's leadership, since 2014, the number of new universities has been opened with an increase. Likewise, at present, India has total number of 12,429 colleges under 2 (F) and 12 (B) schemes while 747 colleges have been given autonomous status as on 19 December, 2019. The abovementioned data shows the determination of the government under the able leadership of the prime minister to address the issues of gross enrolment ratio (GER). Currently, the GER in higher education in India is 27.1 percent, which is calculated for 18-23 years of age group. Over the last eight years, the nation has witnessed in the increase of GER more than 7 percent.
Digital initiatives
Prime Minister Narendra Modi, a visionary man who believes that future of any nation lies in the development and technological innovations. Government of India under his leadership launched various schemes to enhance technical skills, technical literacy and technological innovations through Digital India Mission as a flagship programme in order to transform India into a digitally empowered society and knowledge economy. The same has been addressed in the policy document of NEP-2020. Accordingly, India's higher education is also getting a momentum on the utility of digital learning in the teaching learning process by various digital online platforms such as Sawayam, MOOCs, NDLI, Sawaywam Prabha, e-PG Pathshala, Diksha, Vidya Daan and many others. During the Covid-19 pandemic, when there was confusion and no way out how to continue teaching-learning process, the various digital initiatives of government of India proved very beneficial for the teachers and students. These platforms provided an opportunity to learners to continue their study during lockdown as uninterrupted educational process. And the teaching-learning experiences have been facilitated by students and teachers with blended and flipped techno-pedagogical approaches. Rajiv Gandhi University has also put its strenuous efforts to reach the remote area residing students in hilly terrain dominated Arunachal Pradesh during the critical juncture of Covid-19. The teacyhing-learning community of the university is also organising a series of national and international webinars through digital platforms for augmenting their profession knowledge and skills. The university has also organised more than 20 online educational programmes/webinars. The government of India's vision to make India a digitally empowered nation has come true in higher education scenario, which is one of the target goals of NEP-2020.
Quality mandate in research, innovation and development
The University Grants Commission (UGC) and the education ministry both have come forward to ensure quality in higher education, research and innovations. The NIRF and NAAC both are directly involved in measuring quality parameters of institutes of higher education as a whole and providing them ranking. Besides these, the government has also shown its interest towards policy research and governance pertaining to social development through research funding like Impress, Stride, and seed research to the academicians. Specifically, the UGC has taken a very innovative and bold step to promote quality research, stop plagiarism, and avoid duplicity of research and publications by introducing UGC-CARE list of journals for quality academic writings. Rajiv Gandhi University has been striving to achieve all these NEP-2020 policy parameters in tune with quality mandate of research and academic publications.
Physical and mental wellbeing programmes
Our ancient treasure of knowledge kept in our scriptures clearly states that only a physically, spiritually and mentally healthy person can contribute for one's development and as that of the society. The Indian system of fit and healthy living pioneered by Maharishi Patanjali empirically proved it. The present government is determined for all-round and harmonious development of citizens of India and various initiatives have been taken and schemes have been launched like advocating the importance of yoga for healthy living, recognising its universal appeal on 11 December, 2014, the United Nation proclaimed 21 June as the International Day of Yoga by resolution 69/131. The 2020 theme, 'Yoga for health – Yoga at home' was celebrated keeping in view the Covid-19 pandemic situation as per the direction of the World Health Organisation.
Prime Minister Narendra Modi launched the 'Fit India Movement' on 29 August, 2019, on account of the National Sports Day in order to encourage people to remain healthy and fit by including physical activities and sports in their daily lives. A fitness pledge to everyone was done by the PM on this auspicious day. Emphasising on fitness, he added that fitness has always been an integral part of our culture. Healthy India should be our goal and we should call for a strict control on people's lifestyles. From the event of Fit India, it is clear that all higher educational institutions (HEIs) need to focus on special and significant priority to physical and mental fitness of students and faculty in the campus. In consonance to the Fit India Movement, all the higher education institutions of the states have marked this event with grand manner in letter and spirit. In tune with government policies, Rajiv Gandhi University has taken several initiatives like promoting sports by organising Khelo India pragramme, yoga evening classes, meditation, and the prime minister's Pariksha Pe Charcha interaction with students for emotional concerns and anxiety of faculty, parents and students. The government also started a good initiative on the birth anniversary of Sardar Vallabhbhai Patel to promote national unity, integrity and cultural exchange among denizens in the name of Rashtriya Ekta Divas held on 31 October, 2015. The students of Rajiv Gandhi University visited the Banaras Hindu University (BHU) under the Ek Bharat Shreshtha Bharat programme. To promote sanitation and environment protection, RGU made its campus plastic-free and has organised webinars and workshops on depression, anxiety and stress management towards the health and wellbeing of all during pandemic.
So, in many ways, the policy is expected to meet the requirements of the present generation learners and society of 21st century, still there are many critical questions that are haunted in the minds of the academia in terms of practice, implementation and functioning, etc. We know by this multidisciplinary education we do prospect many opportunities. Conglomerating multiple disciplines like humanities and arts with STEM the assessment of educational approaches in undergraduate education will bring consistent positive learning outcomes in the form of increased creativity, innovation, critical thinking, higher-order thinking, problem solving abilities, teamwork and many more.
On the other way, multiple entry and exit will remove rigid boundaries and will create new avenues for lifelong learning and also to reduce the number of dropouts by splitting up of monopoly of compartmentalisation and stereotype, readymade doze of learning experiences. The way we are heading towards multidisciplinary learning approach in higher education as the policy at least that will empower learner to response contemporary global issues (under global citizenship education) and to become active promoters of peace, tolerance, secure and sustainable societies. And the provision of introducing internship and industrial interface by and large among the undergraduate learners may enable their active engagement with practical side of their learning and will further improve their employability and ultimately suffice the individual sustainable needs. Inculcation of Indian culture and values amongst students and also promoting Indian art forms at all levels will rejuvenate the traditions and infuse a kind of cultural epoch in the education system. (Para 11.7, NEP-2020).
As a whole, there is increase of access, equity and inclusion through a range of measures, including greater opportunities for outstanding public education; scholarships by private/philanthropic universities for disadvantaged students; online education and ODL and all kinds of accessible learning for learners with disabilities. For the effective implementation of the NEP-2020, Rajiv Gandhi University has taken appropriate measures in last two years. It has set up taskforce committees for better implementation of the NEP-2020 parameters in the higher education of the state and university affiliated colleges. Two more conclaves on NEP-2020 implementations have been organised by the university administration for the college principals and heads and deans of the departments/faculties for the introduction of multiple entry and multiple exit towards multidisciplinary higher education in the state. In a nutshell, it is to be said that able leadership of Prime Minister Narendra Modi is guiding India towards making it a 'Atmanirbhar Bharat' by his visionary approach and the NEP-2020 will transform India a New India in the times to come. (The writer is Vice Chancellor, Rajiv Gandhi University, Rono Hills.)