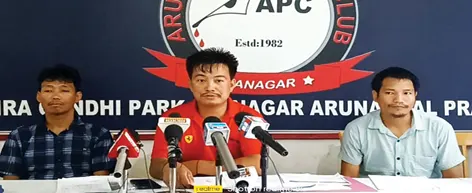 Staff Reporter
ITANAGAR, 5 Jul: The Pro Dam Movement of Arunachal Pradesh (PDMAP), led by its president Taw Paul, said that it submitted a reminder letter to Governor BD Mishra on Tuesday, reiterating its earlier demands.
Armed with unverified reports to substantiate its demands, the PDMAP claimed that no private company related with the hydropower sector in the state has completed any project, and stated that "there is a complete breach of MoU and MoA agreement."
It demanded immediate cancellation of all the MoUs and MoAs signed by the state government with 142 private sector entities.
Addressing reporters at the press club here on Tuesday, Paul demanded details of the upfront money, claiming that "it has been collected by all the public and private sectors, amounting to Rs 14,9573.72, along with the incurred expenditure."
He said that the PDMAP has come to know that the NEEPCO has acquired a plot of land in Tezpur (Assam) to establish the office of the executive director of the project in Arunachal, and demanded that the office be shifted to Arunachal.
Along with other demands, the PDMAP sought "100 percent reservation in job recruitment to Group C and D categories," and said that the exam in this respect should be conducted by the state government.
Paul said that, despite several reminder letters having been submitted to Chief Minister Pema Khandu, seeking his intervention in the matter, no response has come so far.
He said that the PDMAP would resort to a democratic movement if its demands are not met within 10 days.
The PDMAP said that, if the issue cannot be resolved, the CM should "leave his chair." Earlier, it had sought the CM's resignation.
It said that "despite seeking a constructive and positive solution from the authorities, it has only failed to accomplish accountability."
Among the PDMAP's 14 demands is renaming of the Ranganadi hydroelectric project to Panior hydroelectric project. "The indigenous identity and local sentiments should be considered along with other demands," it said.