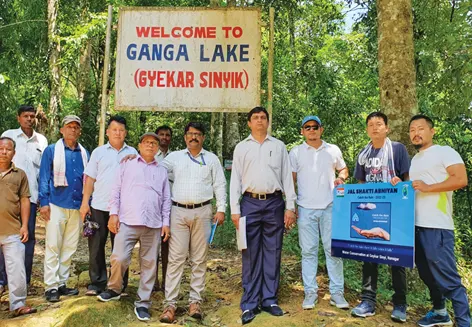 ITANAGAR, 6 Jul: The central team comprising of Dr. Mahesh B Dale and Dr. SS Vittala took stock of the progress of the 'Jal Shakti Abhiyan: Catch the rain 2022' in the Itanagar Capital Region.
The two officials, accompanied by WRD EE Techi Topu Tara on Tuesday, visited various sites in Itanagar, like Ganga village, Baath village etc.
During their visit, they also created awareness among the people about the importance of water conservation, water rejuvenation and tree plantation.
The team also visited Ganga Lake (Gyekar Sinyi) and the Jal Shakti Kendra at the office of the Water Resources Division EE here.
On Wednesday, Dale and Vittala shared their observations with ICR DC Talo Potom and discussed with him various measures required for water conservation in the capital region.  (DIPRO)