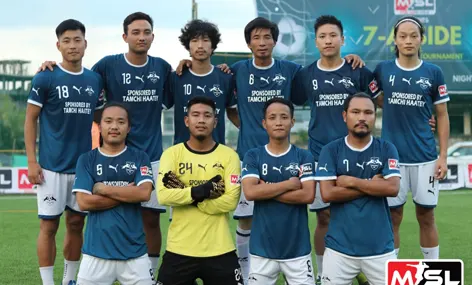 NAHARLAGUN, 7 Jul: Panthers SC's strikers scored four goals in each half to down Young Boyz FC 8-0 in a day-4 match of the MSL 7 A Side football tournament at Mesque Champion's Arena in Lower Model Village here on Wednesday.
While Uli, Tarh Agung and Gyamar Apa scored a brace each, Sanjay and Romik Tapa scored one goal each in the match.
In the second match, 5/1 United FC beat MVYA 4-1 to maintain their winning streak.
Likha Oum, Nabam Tako, P Tama and Tame Dolu were the scorers from the winning team.
Ape Rapung scored the only goal for MVYA.
In another match, Chomu FC won a hard fought match against Abu Tassar FC.
Yomli Payum opened the scoring for Chomu FC. Thereafter, Chomu FC's prolific forward Tadam Nguki added four goals to stretch the lead to 5-0 at halftime.
Abu Tassar FC came back strong in the second half and scored four successive goals through Biri Lalum, Biri Pallang (two goals) and Biri Tanga to reduce the margin to 4-5.
Nguki scored his fifth and the team's sixth goal to seal the match in their favour (6-4).
In the last match, Polo City FC came from one goal behind to beat Avengers FC 2-1 in a keenly contested match.
Avengers FC took an early lead with a goal from captain Sanjay, only to be equalised by Kon Kanu.
Both the teams were tied 1-1 at half-time.
Tsering scored the match winner.