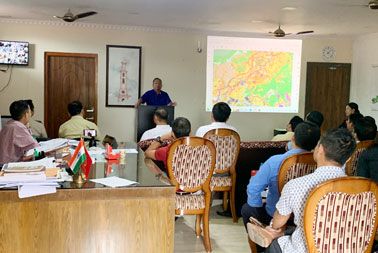 ITANAGAR, 5 Aug: A threadbare discussion on implementation of the Itanagar Master Plan (MP), 2031 was held during a meeting of the Itanagar Town Planning Authority at the Itanagar Capital Region (ICR) deputy commissioner's conference hall here on Friday.
MLA Techi Kaso, attending the meeting, called for "concerted efforts from all stakeholders for the implementation of MP 2031 for beautiful and better capital in all aspects."
"Unplanned development has already hampered the growth of the capital," IMC Mayor Tame Phassang said, and called for "overall development in a planned manner." He urged one and all to make concerted efforts to properly implement the master plan.
Town Planning Director Likha Suraj made a presentation on the town planning legislations and the roles and responsibilities of the town planning department.
"Development should be in a regulated way and not in a haphazard manner," he said.
Emphasising on coordinated efforts by all stakeholders, Suraj said, "It is high time to implement MP 2031."
ATP Tabom Tamut made a presentation on MP 2031 and enumerated various modalities for successful implementation of the plan.
CO Shania Mize, Papum Pare ZPC Chuku Bablu, ICR SP Jimmy Chiram, and Fire & Emergency Services SP Asif Mohd Ali also spoke. (DIPRO)