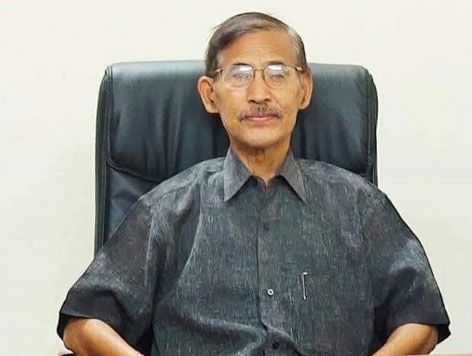 Staff Reporter
PASIGHAT, 6 Aug: Former vice chancellor (VC) of Rajiv Gandhi University (RGU), Prof Tamo Mibang, passed away after a prolonged illness at his residence in Mirku Dapi village in East Siang district on 6 August. He was 67.
Prof Mibang was born on 1 July, 1955 to late Takar Mibang (father) and late Yateng Mibang (mother) in Jomo village in Siang district. He was the architect of the Arunachal Institute of Tribal Studies (AITS) at RGU.
Prof Mibang was also an illustrious teacher and an eminent scholar. He earned his master's degree from the Gauhati University in 1977 and a PhD degree from Dibrugarh University (Assam) in 1988.
He had joined service as a lecturer at the Jawaharlal Nehru College, Pasighat, where he served from 1978 to 1988. Later, he worked as a reader in the history department of the then Arunachal University (now RGU) from 1988-1995.
Before joining as the vice chancellor of the university, he had served as a professor at the AITS, RGU, from 1995 to 2012.
With a career extending over 42 years of teaching, research supervising, authoring books, editing scholarly books and RGU's research journal, he had the unique distinction of leading RGU as the vice chancellor from 18 December, 2012 to 1 August, 2018.
As a researcher of rare eminence and authority, he had to his credit 16 books and 46 research papers published in reputed international and national journals, besides 32 radio talks and several unpublished lectures and talks delivered on various occasions, both at  academic and administrative forums.
Prof Mibang was in the expert panels of recruiting, funding and award-granting bodies like the Indian Council of Historical Research, New Delhi, the Sahitya Akademi, New Delhi, the Research Institute of World's Ancient Traditions Cultures & Heritage, Roing, and several other hallowed institutions.
Prof Mibang also acted as the chief consultant for 'The tribal transition: Cultural innovations in Arunachal Pradesh', a major project undertaken in collaboration with the School of Oriental and African Studies, University of London, the British Museum, the CCRD, and the Arunachal University from 2002-2007.
He also served as the director of the AITS. He retired from service on 30 June, 2020, as a professor at the AITS.
Prof Mibang is survived by his wife Rongili Mibang, a retired joint director of the education department, and two sons.
Condolences pour in
The RGU family deeply mourned Prof Mibang's demise.
In a condolence message, the university recalled him as a person who, "in constant pursuit of excellence, laid exclusive emphasis on showcasing the institute/centre/department under his nurture and care as a site of vigorous and insightful expedition into arenas of new knowledge."
"He has left behind the legacy of singular dynamism and robust planning, and the university immensely benefitted from his dedication and interest in visualising newer goals and recording substantial achievements through the IQAC, NAAC and other important national level ranking-related exercises," it said.
"His imprint of genius as a bold and visionary leader and institution-builder is indelible in this challenging position of constitutional authority and responsibility. His image of a rishi in this premier institution of higher learning would enthuse the generations of indigenous scholars and youths to think globally and act locally by integrating the gifts of modernity with the fruits of a tradition," the university said.
"The Rajiv Gandhi University family very humbly and gratefully acknowledges the great and unique contribution that this doyen of learning and sagacity made through his immersion in the uplift of this university from strength to strength," it said, adding that "his beloved family of friends, followers, admirers, students and well-wishers" pray for eternal peace of his departed soul.
Governor BD Mishra and Chief Minister Pema Khandu in separate messages deeply mourned Prof Libang's demise.
The governor in his condolence message said that, "in his passing away, the state has lost a brilliant educationist and academician who made a lasting contribution to higher education in Arunachal Pradesh."
"Prof Mibang's path-breaking academic career and achievements in the field of academia and academic administration is unparalleled and he will be always remembered for being the first Arunachali to become the vice chancellor of a central university," Mishra said.
Joining the people of Arunachal in the hour of grief, the governor offered prayers to the almighty Donyi Polo to give fortitude to the members of the bereaved family to bear the irreparable loss.
The chief minister in his condolence message expressed profound grief over Prof Mibang's demise, and said that Prof Mibang "will be always remembered as the doyen of tribal studies who remained committed to academics by contributing immensely to the state and nation till his last breath."
"The Arunachali society will be forever indebted to Prof Mibang, who not only had an impeccable career as an academician but also won one and all through his simplicity and sheer determination to preserve the indigenous tribal culture of the state," Khandu said, and prayed to Lord Buddha to bless the departed soul.
East Siang MLAs Kaling Moyong, Ninong Ering and Lombo Tayeng, and Deputy Commissioner Tayi Taggu also extended deepest condolences to the bereaved family, associates and countless students.
"Prof Mibang was an amazing human being, an amazing academician, and an amazing mentor who always motivated all to give their best. We will always follow his wise and generous words. We will surely miss the presence of that great person" they said in their messages. (With DIPRO input)