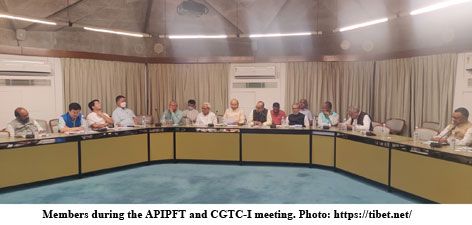 ITANAGAR, 6 Aug: A meeting of the All Party Indian Parliamentary Forum for Tibet (APIPFT) with the members of the Core Group for Tibetan Cause – India (CGTC-I) was held on 3 August in New Delhi.
RK Khrimey, the national convener of the CGTC-I, briefed the participants about the CGTC-I, Tibet support groups in India, the Dalai Lama, the Tibetan government-in-exile (Central Tibetan Administration) and the Tibetan parliament-in-exile.
APIPFT convener, MP Sujeet Kumar, who chaired the meeting, spoke on the Tibetan Rehabilitation Policy of 2014 and laid out the points with regard to the welfare of Tibetan refugees and settlements in India, protection of Tibet's environment, and the reincarnation of the 14th Dalai Lama.
The members agreed to request the government of India to confer the Bharat Ratna on the Dalai Lama and also request for an address by the Dalai Lama in the Parliament of India.
The members suggested visiting Tibetan settlements located in their respective states.
The members reiterated that they all are with Tibet and the Tibetan people, and said that the Tibetan issue should be kept alive and all should keep trying until a solution to the Tibet issue is found.
Members of parliament present during the meeting were APIPFT convener Sujeet Kumar from Odisha, Sushil Kumar Modi and Aneel Hedge from Bihar, Rajendra Agrawal and Ashok Bajpai from Uttar Pradesh, Tapir Gao from Arunachal Pradesh, Lehar Singh Siroya from Karnataka, Hissey Lachungpa and Indra Hang Subba from Sikkim, and Vinay Tendulkar from Goa.