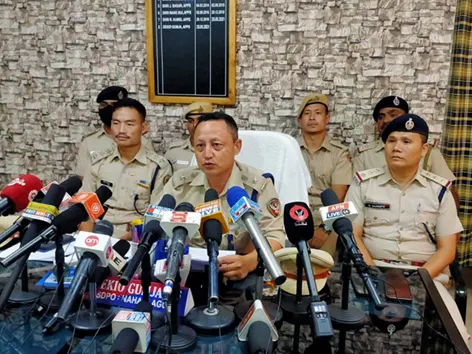 Staff Reporter
ITANAGAR, 18 Aug: The capital police have solved the ATM machine theft case that had occurred in Kankarnallah on 15 July, and foiled another ATM theft plan in Polo Colony in Naharlagun by arresting nine persons on Thursday.
In a press conference held here, Itanagar Capital Region Superintendent of Police Jimmy Chiram informed that the arrested persons are Mustafizur Rahman, Sohidul Ali, Johidul Islam, Sadik Ali and Nabir Islam, all from Assam, Rukumudin and Arshad Khan from Rajasthan, and Md Zaheed alias Haji Bhai and Rahul Khan from Haryana.
Presenting a briefing on the case, the SP said that, on 26 July, a written FIR had been received from one Biswajit Sharma, the local representative of the NRC Corporation India Pvt Ltd, Naharlagun, claiming that, in the intervening night of 25 and 26 July, some unknown culprits "cut down the ATM machine of Kankarnallah and stole Rs 11,73,000 from the ATM."
A case (u/s 457/380/401/120-B/201/34 IPC) was registered and investigation was launched, Chiram informed.
"Considering the seriousness of the case and possible involvement of interstate elements, a special team was constituted, led by Naharlagun SDPO Dekio Gumja, Naharlagun PS OC Khiksi Yangfo, Inspector Jumli Kamdak, SI SS Jha, Constables Kanto Samyor, Sandeep Yadav, Debojit Borah, Lucky Tacho, Anugrah Dwivedi, Raj Tamang and Punyo Tari," under the SP's supervision, Chiram said.
"After intensive investigation, which included examination of hundreds of witnesses and more than 300 hours of CCTV footages from cameras installed in the ICR, the team got the breakthrough by identifying a Hyundai i10 car (AS-07-S-3611) leaving from the scene," he said.
The car was registered in the name of Mustafizur Rahman, who was arrested from Geku in Upper Siang district on 6 August. Subsequently, Rahman's accomplices, Sohidul Ali, Johidul Islam, Sadik Ali and Nabir Islam, were arrested from various places in Assam on 6 August itself, with the help of the Laluk (Assam) PS OC and the "Nowboicha IC OP," Chiram said.
Rukumudin and Arshad Khan alias Kallu were arrested from Ganga village in the wee hours of 6 August.
The police said that, during custodial interrogation, it was revealed that Sadik Ali and Nabir Islam were contacted by Rukumudin and Arshad Khan, who are residents of Bharatpur, Rajasthan, "with a request that they want to commit ATM thefts in ICR and want their help in doing so."
"After getting assurance from the two of them, Arshad Khan alias Kallu brought five persons from Mewat, Haryana – Md Zaheed alias Haji Bhai, Rahul Khan, Salman, Mohammad Khalid, and Md Hasim," the police said.
"With the help of the Mewat gang, they could rip apart ATM booth by using gas cutter and oxygen cylinders. They later disposed all materials at Nirjuli Village-I after committing the crime.
"The gang was also planning to steal the Polo Colony ATM, using the same modus operandi, on 15 August," the police said.
Accordingly, the Naharlagun police team laid a trap on 14 August and arrested two members of the Mewat gang – Md Zaheed alias Haji Bhai and Rahul Khan – along with an oxygen cylinder, a gas cylinder and cutters, from Polo Colony.
A case (u/s 457/380/120-B/401 IPC) has been registered in this regard.
The police team recovered Rs 3,50,000 in cash from the accused.