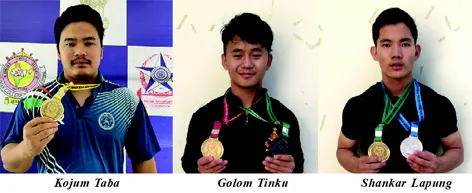 ITANGAR, 8 Jan: Ace lifter Kojum Taba of Arunachal Pradesh won gold in the National Weightlifting Championship, which ended in Nagercoil, Tamil Nadu, on Saturday.
Competing in the 102 kg weight category, Taba lifted 150 kgs in snatch and 185 kgs in clean & jerk, for a total of 335 kgs.
Arunachal has won a total of three gold medals, three silver medals and as many bronze medals in the championship.
Earlier, Golom Tinku won a gold medal and a bronze medal in the youth and junior category, respectively, while Shankar Lapung won a gold medal (in overall) and a silver medal (in all India interstate) in the junior category of the championship.
Charu Pessi won a silver medal and Bengia Tani a bronze medal in the junior category.
Markio Tario also won a silver medal and a bronze medal in the senior category.