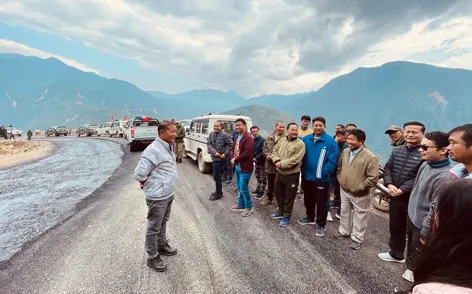 NYAPIN, 23 Jan: Home Minister Bamang Felix on Monday inspected the ongoing construction work for the two-lane BRTF road to Layang in Nyapin assembly constituency in Kurung Kumey district, and expressed satisfaction over its progress.
Stating that having proper roads is the first step towards bringing development to the masses, the minister directed the officials concerned to "complete the work in a time-bound manner while also ensuring utmost quality work."
Felix, who is on a whirlwind tour to inspect the ongoing developmental activities in the constituency, also visited the under-construction police station in Layang in Nyobia circle, and the site for the establishment of a fire station in Pokriang in Sangram subdivision.
Expressing satisfaction over the ongoing construction work at the police and the fire stations in Layang, the minister assured to provide assistance "whereever required."
He suggested constructing a dormitory within the police station "for ease of police personnel and rapid response during emergency."
Felix, who is also the rural development & panchayati raj minister, interacted with the gram panchayat leaders of Palin and Chambang circles at Palin, and with the residents of Lowa Happa and Byasi villages in Nyobia circle.
He advised the gram panchayat leaders to ensure that all eligible beneficiaries have active bank accounts, "so that the benefits of various central and state flagship programmes can be provided to them."
He also exhorted the panchayat leaders to ensure on-time completion and submission of utilisation certificates against developmental projects undertaken by them in their respective villages.
The minister also directed the officials concerned to "deposit the funds allocated to the gram panchayat chairpersons in their respective bank accounts at the earliest."
Advocating cooperation and coordination among the departments and the panchayat members, Felix also underscored the importance of SHGs for overall development of the rural masses. (HM's PR Cell)