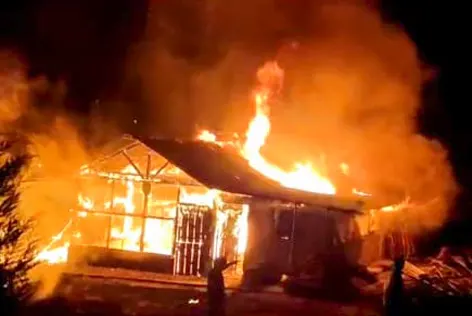 KARSINGSA/ZIRO, 23 Jan: Five houses were reduced to ashes in a fire accident that occurred at the piggery farm in Karsingsa in Papum Pare district at around 3 am on Monday, due to an electric short-circuit.
The houses belonged to Kipa Tafa, Hui Tabum, Jogen Borua, Bengia Yakup, and Tadar Tajuk, Ward 20 Corporator Arun Kipa Loram informed in a release.
Meanwhile, a fire accident which occurred in Hill Top Colony in Lower Subansiri HQ Ziro at around 7 pm on Sunday reduced a building to ashes and caused heavy loss to the house owner.
The flames engulfed the lone SPT building, located atop a hillock, within no time. Fortunately, the house was located in a secluded area, which prevented the inferno from spreading to other houses in the colony, which is home to nearly 200 households, besides the famed Gayatri temple.
The cause of the fire is suspected to be burning firewood in the local kitchen of the house.
Neighbours and many other people were unable to douse the fire due to the size of the flames and bursting of LPG cylinders.
However, a fire tender arrived at the scene on time and doused the fire.
The house owner informed that nothing could be salvaged from the ashes.
"I have lost properties worth 25 to 30 lakhs. All my traditional beads, ornaments, dresses and other personal and domestic belongings are completely burnt to ashes," he lamented.
The district administration, through the DDMO has distributed essential relief materials, including blankets, rice, dal, oil, sugar, salt, and cooking utensils, to the affected family. (With DIPRO input)