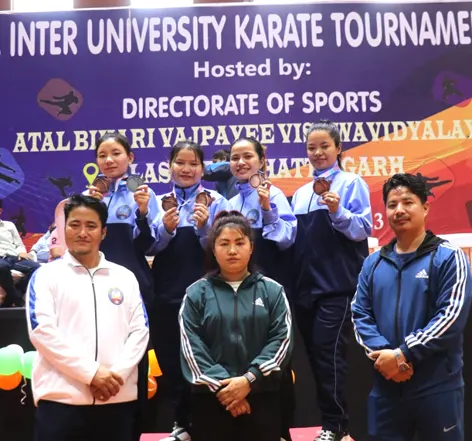 ITANAGAR, 23 Jan: Rajiv Gandhi University [RGU] won a silver medal and two bronze medals in the All India Inter-University Karate Championship, which was held in Bilaspur, Chattisgarh, from 16-22 January.
Santi Sikom won the silver medal in the below 45 kg women's individual kumite, while Yaki Dignium won a bronze medal in the below 68 kg women's individual kumite.
The team, comprising Sikom, Dignium, Bumi Nuk and Yame Gyadi, won the second bronze medal in the women's team kumite.
The team was led by sensei Kakio Siga as male team coach, Sumpi Chege as women's team coach and sensei Dongda Tapi as team manager.