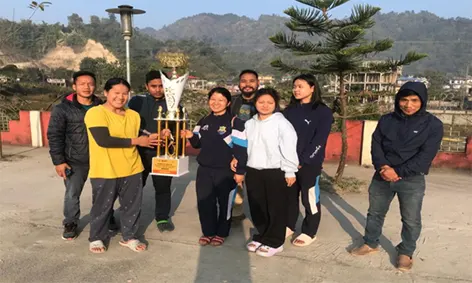 ITANAGAR, 30 Jan: Arunachal Pradesh won 10 medals – six gold, one silver and three bronze – in the 1st Khelo India Women's Senior National Wushu League, which was held at Chandigarh University from 23-27 January.
Arunachal, with five gold medals and three bronze medals, emerged the overall team champion in the Taolu event.
Nyeman Wangsu won the gold medal in the Changquan style of Taolu, while Mepung Lamgu won a gold medal each in Taichiquan and Taijijian. Mercy Ngaimong also won a gold medal each in Jianshu and Qianshu.
While Realu Boo won the bronze medal in Taijijian, Yorna Rosni bagged a bronze medal each in Nanquan and Nandao.
In Sanda, Onilu Tega won the gold medal in the below 52 kg category, while Gyamar Yatup won the silver in the below 48 kg category.
Kishen Chetia and Likha Tadh were the coach and manager of the team.
The wushu players were accorded a warm welcome on their arrival in Naharlagun on Monday by the All Arunachal Pradesh Wushu Association, led by its president Tach Tadar, general secretary Abo Lukham and treasurer Taring Liyak.