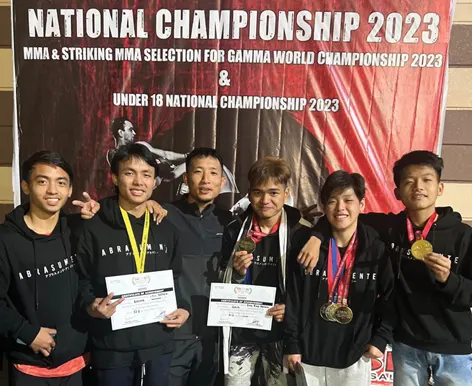 Staff Reporter
ITANAGAR, 30 Jan: The MMA fighters from Arunachal Pradesh bagged four gold medals in the GAMMA National Championship, which was held in Lucknow, UP, from 28-30 January.
Dado Chumpi won a gold medal each in the 52.2 kg and the 60 kg categories, and one silver medal in the 56.7 kg category.
Chumpi was adjudged the best female fighter of the tournament and was awarded a cash prize of Rs 15,000.
Tadar Tabyu bagged the gold medal in the U-11 47 kg category; Diyo Rimo struck gold in the 61.2 kg category in striking MMA; and Bengia Lalu bagged the bronze medal in the U-18 52.2 kg category.
All the fighters represented the Abrasumente MMA Academy here, under Techi Karda's mentorship.