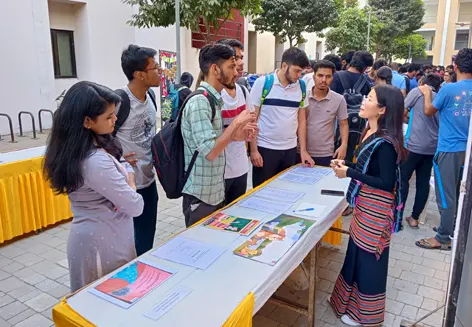 ITANAGAR, 22 Feb:  A two-member team from Lohit Youth Library Network displayed the Mishmi Kaman language of Arunachal Pradesh at the Language Carnival hosted by IIT Gandhinagar, Gujarat to mark the International Mother Language Day on Tuesday.
The team led by Bahailu Rangmang exhibited introductory posters on Arunachal Pradesh, Mishmi society, children's biography of Mahatma Gandhi in five languages of Arunachal Pradesh, 'Hambreelmai Sai'-the first children's book in Kaman language-and the Mishmi Kaman grammar booklet prepared by linguists Roger Blench and Sokhep Kri, Lohit Libraries coordinator S Mundayoor informed in a release.
Many visitors were also curious to know more about the teaching of Arunachalee languages in schools, after
seeing "Kaman Pit -1," a text book published by the Arunachal State Education department, the release said.
"Several students, research scholars and faculty of IIT visited the Kaman stall, seeking details about Arunachal, its people and its languages.
Prof. Jooyoung Kim, linguist and prof. Ambika Aiyadurai, social anthropologist, congratulated the Lohit Youth Library team for their elegant presentation," the release said.
Apart from the Mishmi Kaman language, 11 scheduled languages of India were on display during the carnival, which was organized by the Leadership Development Initiative of IIT Gandhinagar.