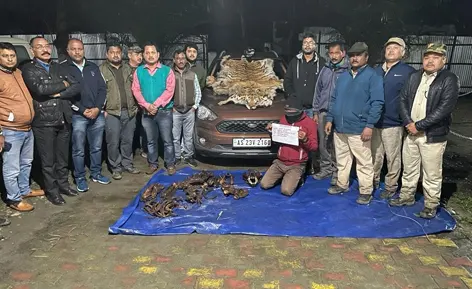 ANINI/ITANAGAR, 27 Feb: Officers and personnel of the forest departments of Arunachal Pradesh and Assam in a joint operation arrested a tiger poacher from the Dibang Wildlife Sanctuary (DWS) in Dibang Valley HQ Anini recently.
The poacher has been identified as Jakir Husain, a resident of Hagun Toli village in Nagaon district of Assam.
The team of officers and personnel, led by Wildlife Crime Control Bureau Inspector Jawaharlal Baro, seized a Royal Bengal tiger skin, four tiger canine teeth, one tiger skull with teeth, 46 pieces of bones, and a vehicle (AS-23V-2160) from Husain's possession.
Investigation revealed that the tiger had been poached from Malinye area of the DWS, with help from local poachers. The forest officials are now on the lookout for the other accused in Roing (Lower Dibang Valley) and Anini.
Meanwhile, immediately after receiving the report, PCCF Rajesh S constituted a high-level committee, led by the Namdapha Tiger Reserve field director, to carry out further investigation in the DWS. The PCCF also directed the local authorities to "be on high alert to nab the offenders and prevent such poaching incidents in Anini and other parts of the state."
Tiger poaching in the DWS has been reported several times. However, as the 'Project Tiger' scheme is still not being implemented in the DWS, the department does not have a dedicated staff for the protection of tigers. There are only four to five frontline staffers for the entire sanctuary, which is 4,149 sq kms in size, and is located in high-altitude terrain.
Based on a study conducted by the Wildlife Institute of India, the National Tiger Conservation Authority (NTCA) had approved declaring the DWS as a tiger reserve. However, the state government is yet to submit its final concurrence to the union environment, forest & climate change ministry for final notification of the tiger reserve.
Implementation of 'Project Tiger' will equip the DWS with all kinds of infrastructure, including human resource, to prevent poaching in the sanctuary.
The NTCA had in December last year sanctioned three battalions, comprising 112 personnel, of Special Tiger Protection Force for all three tiger reserves in Arunachal – Pakke, Namdapha, and Kamlang.
The recruitment process is yet to be approved by the state government.