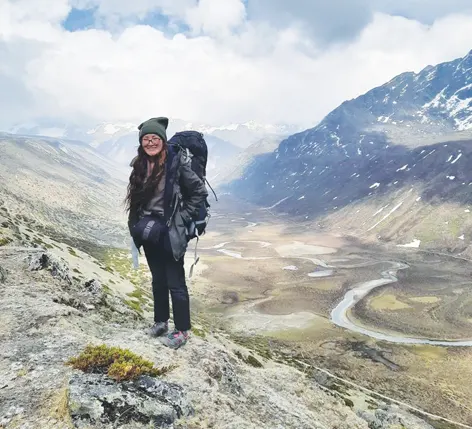 [ Neyi Jamoh ]
In the beginning
While growing up in the serene Jemeithang valley in Tawang district, Dechin Pema Saingmo frequently accompanied her parents on Gyatsama cows herding trips to highland pastures. She also enjoyed visiting nearby forests, collecting fodder for their cows, and gathering non-timber forest products for daily use. This lifestyle and the relationship she shared with forests since a young age, Dechin believes, laid the base for her career in biodiversity and its conservation.
After completing her bachelor's degree in arts from the government college in Bomdial (West Kameng) in 2017, Dechin was still contemplating her next moves when her childhood teacher, Degin Dorjee, informed her of the Green Hub, a Tezpur (Assam)-based nature documentation institute. With further encouragement from him, she applied to the prestigious programme and was selected for a one-year training course in nature-themed video documentation and photography. This training at the Green Hub helped Dechin find new applications to her natural skills of confidently working in wild spaces, and paved the way for the biodiversity conservation work that she now undertakes.
Some conservation wins
Dechin started her conservation career as a field assistant with the WWF India in 2018. As part of her first project, she travelled with a team of researchers to several villages in Aalo, Leparada, Tawang, and West Kameng districts, documenting practices of forest governance by the local communities there. During the surveys, she experienced the generosity and warmth of her fellow Arunachalis, which remains a source of inspiration to date. She found that, just like her Monpa people, all other tribes residing in remote regions of Arunachal revere forests and share more or less deep connections with them – a thread that unites all the tribes.
In 2020, while working on another project, aimed at conserving the snow leopard and its habitat in western Arunachal, she, along with fellow Green Hub alumni Pemba Tsering Romo (also a resident of Jemeithang) was selected as the project leaders under the Sanctuary Nature Foundation's award-winning 'Mud on Boots' project. Following this, in July 2021, Dechin participated in the first-ever camera trapping project to document the presence of snow leopards in Tawang district. During this collaborative exercise carried out by the WWF India and the forest department of Tawang, she was the only female member of the team. But Dechin did not let this fact hamper her commitment to growing as a professional. She spent a total of 13 days with her team, climbing high mountain passes, facing harsh weather conditions, and placing several camera traps in strategic locations.
Dechin is dedicated to conserving the wintering habitat of the black-necked crane (BNC) in Jemeithang. To this end, together with colleague Pemba Tsering Romo, she has conducted environmental education and nature awareness talks and screened nature-themed movies for students, and donated children's books provided by the 'Mud on Boots' project to all six government schools in her home valley. In August 2022, following months of countless formal and informal discussions with the locals, the duo convinced all village headmen and several members of the youths in Jemeithang to sign an MoU that would contain guidelines and restrictions on human activities along the Nyamjang Chu during the BNC wintering season.
A balancing sct
As the only daughter among six siblings, Dechin is a huge source of support to her family. In addition to being a natural at fieldwork and documenting wildlife, she is a skilled farmer and helps her mother in cultivating their agriculture fields during breaks from work. When she is home, she tends to all domestic household responsibilities, as well. Her decent earnings as a grassroots conservationist have provided for the needs of her family. It also kept them economically stable even throughout the Covid-19 pandemic which started in 2020.
Being a woman in the conservation sector, she has faced constant judgment for choosing this line of work from many (especially the older generation) in her village and other remote areas in Arunachal Pradesh that she visited. Many well-meaning people have suggested to her that it is not ladylike to be roaming in forests, running after animals and birds with a camera, and staying away from home for long periods. A hardworking, determined, and vocal person by nature, Dechin lives by the motto that hard work and conviction in one's craft are what gain respect and recognition for a person and not the sex a person is born with.
Her work speaks for itself
Dechin is confident that she can achieve anything that she sets her mind to. Staying true to this idea, she has continued to grow in the best ways possible. With support from her team at the WWF India and the Mud on Boots project, in the past two years alone, Dechin has laid camera traps in snow leopard habits in the mountains of Arunachal and Sikkim, trained forest department personnel on the use of GPS and camera trapping devices for wildlife monitoring, organised animal health camps for the Brokpas in Jemeithang circle, conducted a nature education-cum-career counselling session for the students of the government higher secondary school in Bazaar Line in Seppa (East Kameng) co-authored an article highlighting human-wildlife relationships in western Arunachal, documented human-wildlife interactions in 15 villages across western Arunachal, leading to a better understanding of the same, and co-delivered a presentation on her conservation work at a national-level nature film festival held in Bhopal in 2022.
Coming from a far corner of Arunachal, with humble beginnings, she has put Jemeithang and the state on the national map with her relentless conservation-oriented works that are routinely published in Sanctuary Asia magazine. A star in her own right, she is the daughter the biodiverse Jemeithang valley deserves.
A message for the youths
Throughout her travels, Dechin has seen that, in addition to the menfolk, women residing in forested landscapes in Arunachal are extremely knowledgeable when it comes to the local biodiversity. She believes that more women coming into the conservation sector will benefit conservation causes across Arunachal.
With her work, Dechin hopes to inspire Arunachali youths, especially young girls, to consider taking up conservation as a full-time career. This is because she believes that the youths are the real stakeholders of the rich natural heritage of Arunachal. And protecting biodiversity essentially means protecting our rights for living a good quality life. (Neyi Jamoh is a postgraduate in forestry. She currently works as the coordinator of the Sanctuary Nature Foundation's Mud on Boots project.)