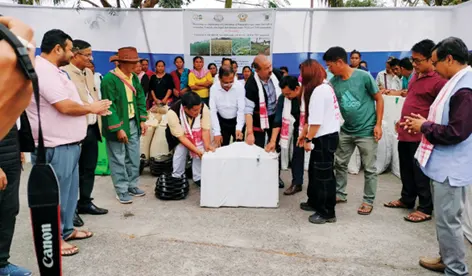 PASIGHAT, 14 Mar: The College of Horticulture & Forestry (CHF) has organized a "workshop on importance of cultivation of potential crops under foothill of Arunachal Pradesh-cum-input distribution under NEH and TSP component" here in East Siang district on Tuesday.
Seventy five buckwheat and other potential crops growing farmers and traders of the district benefitted from the workshop.
Speaking on the occasion, MLA Kaling Moyong urged the farmers to gain knowledge about health benefit of potential crops and to adopt the scientific methods of farming.
Bharatiya Kishan Morcha state president Dunggali Libang, in his address, asked the farmers to adopt scientific cultivation and to add potential crops in daily diet for health benefit.
The National Bureau of Plant Genetic Resource's potential crop network coordinator Dr. Hanuman Lal Raiger highlighted the research achievements in releasing improved varieties of buckwheat.
He said, "Buckwheat is one of the very nutritious crops which can be grown in zero budget in Arunachal Pradesh for more return to the growers."
Dr. Raiger interacted with the buckwheat growing farmers of Namshing, Runne, Takilalung and Jampani village, and assured them of all support.
He also visited the experimental field of Faba bean and other potential crops at the CHF.
Principal investigator prof. P Debnath highlighted the superiority of buckwheat over other major cereal crops such as rice, wheat, maize, etc, in terms of nutrients and nutraceutical properties.
Resource persons Dr. L D Hatai,  Dr. R C Shakywar, Dr. Rajib Das, Dr. Ajai Kr Math and Dr. Tasoo Yatiung spoke on marketing strategies, diseases and pest, seed production and processing of buckwheat and faba bean.
Among others, prof. SK Bandhopadhya, CHF dean prof. B N Hazarika and CoA dean Dr. A K Tripathi also spoke.
A good number of different agricultural inputs like certified buckwheat seed, knapsack sprayers, spade, vermibeds, vermicompost, and biopesticies  were distributed among the farmers  during the  workshop.