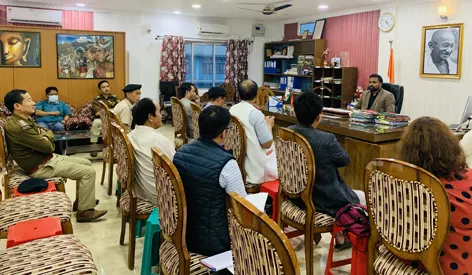 ITANAGAR, 15 Mar: Itanagar Capital Region (ICR) Deputy Commissioner Sachin Rana on Wednesday informed that a team led by ADC Shweta Nagarkoti has been formed to proceed early Thursday morning towards the site of the forest fire in Ganga Chimi area here, and that additional human resources from the police, the fire & emergency services department, the SDRF, and the forest department, besides aapda mitra volunteers have also been deployed to assist the team.
Addressing an emergency meeting with stakeholders to discuss strategies to control and stop the forest fire in the area, the DC asked the ZPM and the GPC of Ganga and Chimi to deploy youths to assist the team.
The DC further directed the RFO to "lodge an FIR against the miscreants" and directed the capital police to ascertain the cause of the fire and take necessary actions as per the law.
He appealed to the residents of the ICR to remain alert and inform the district administration, the disaster management department, or the police whenever such incidents occur, "so that early measures can be adopted to tackle such events."
Officers of the forest and the fire & emergency services departments informed that efforts are being made to control the fire, "including deployment of human resource and machineries."
"However, due to inaccessible terrain, they are finding it difficult to douse the fire completely," they said.
Batt-Ganga ZPM Taro Tagia informed that "several local youths have been engaged to control the fire for the last two days."
"The team reached the location and managed to control the fire up to some extent, but unfortunately, it spread to other locations," the ZPM said.
Among others, ADCs Shweta Nagarkoti and Jiken Bomjen, EACs Nangram Pingkap and Khoda Lasa, ASP Kamdam Sikom, DDMO Moromi Dodum Sonam and GPCs of Ganga and Chimi attended the meeting. (DIPRO)