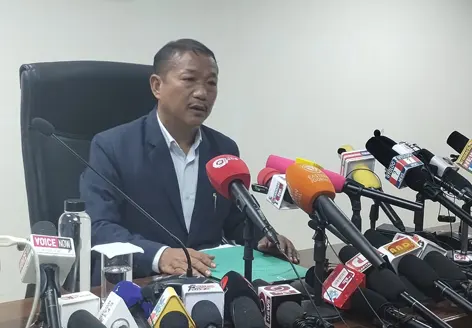 Staff Reporter
ITANAGAR, 22 Mar: "So far, 42 government employees have been arrested in Arunachal Pradesh Public Service Commission paper leakage case of which, 22 are regular while 20 are on probation," said home minister Bamang Felix on Wednesday.
Speaking to reporters after meeting the representatives of the All Nyishi Students' Union and the Pan Arunachal Joint Steering Committee, the home minister further informed that the government has agreed to all of their demands.
Felix informed that the chairman, secretary, members and all other officials of the Arunachal Pradesh Public Service Commission from 2014 to 2022 must immediately be brought under the purview of the investigation process.
The minister said that since the government has already given a blanket order to investigate, "whoever is involved should be investigated."
He said that the district and sessions court, Yupia has been designated as a fast track court via an order through the chief secretary.
"The government has already requested the commission for setting up of a grievances redressal committee," he said.
Regarding the case of one Mudang Yabyang, a person with disability, the minister said that her case will be re-examined after the APPSC actively starts.
Speaking on the demands for investigation by the enforcement directorate in the state, he informed that a letter has already been sent to the directorate on 10th March on the issue.
The home minister has further appealed to the citizens not to escalate the issue but come together to resolve the problem so that such situations do not occur in the future.